Building Colorado: Cities
Building Colorado: Cities
Recommended for Grade 4
[click here for Building Colorado: Communities]
Overview
Engage fourth-graders in economic concepts through the fun lens of history with Building Colorado: Cities.  Museum staff will facilitate this 90-minute game-based lesson in the classroom. Students will work in teams to weigh the opportunity cost, incentives, and risks to make the same choices that historic Colorado cities faced. It fulfills content standards for all social studies topics and challenges critical thinking skills.
The Building Colorado program won the Josephine H. Miles History Award from History Colorado.


Register for Cities
Here's why teachers and students love Building Colorado: Cities
Fast-paced trading game
Led by museum staff
90 minutes long
Fulfills history and economics standards
Pricing
Number of classes                           Price
1 classroom                                        $140
2 classrooms                                      $255
3 classrooms                                      $355
4 classrooms                                      $455
5 classrooms                                      $555
Each additional                                  $100
A 20% discount is available for Title 1 schools.
Our educators travel within the Denver Metro Area. An additional mileage fee is also charged in excess of 20 miles roundtrip to compensate our traveling educators per day of travel. The current rate for mileage is 65.5 cents/mile. As much as possible, we try to book all of your classrooms for the same day.
Booking & Payment Policy
Teachers that booked an outreach program last year receive priority access from August 9 – August 21, 2023 for the 2023-2024 school year. On August 22, 2023, the registration link will be posted online.
If you booked last year, you will receive a direct email with information about priority access. If you did not receive this, please email goldenhistorymuseum@gmail.com.
All teachers interested in the Building Colorado: Cities 4th Grade outreach program must complete the online registration form to begin their booking. Once your inquiry is received, you will be contacted by a staff member to finalize your booking for your classroom(s). Completing the online booking form does not confirm your dates. Your program is not confirmed until you receive an invoice. Dates fill up quickly. We recommend trying to reserve your desired date early.
A 25% non-refundable deposit is required within 30 days of receiving your invoice to hold your reservation.
Final payment is due 30 days prior to your scheduled program.
If a program is cancelled less than 30 days prior to your scheduled program, the museum will refund the final payment minus the 25% deposit. The museum will work with you to reschedule if there are open options on our outreach calendar for the current school year.
If a program is cancelled due to inclement weather, the museum will work with the school to reschedule to another open date on our outreach calendar for the current school year.
---
Frequently Asked Questions
How long is the class?
This is a 90-minute program facilitated by a museum staff member. We know that it can be difficult to try to find a 90-minute block of time in your schedule. We often have teachers rearrange specials if needed. When possible, we try to fit multiple classes into one day.
What if I do not have more than one 90-minute block of time in the day?
We do our best to accommodate school schedules. If your schedule can only accommodate one classroom per day, we will try to pair you with another school with a similar situation. Schools that can accommodate multiple programs in one day are given priority with their dates. Single day programs are dependent on facilitator availability.
How does this relate to what I'm teaching?
Building Colorado is an immersive game that re-imagines historic events. Topics include exploration, the 1859 Gold Rush, the fight for the railroad, statehood, the boom and bust of silver, and more. Students make economic decisions, take risks, and weigh incentives to advance their teams.
The third graders at my school had your Ute Knowledge: STEM Kit/ Building Colorado Communities program last year. How is this program different?
Each of our outreach programs Ute Knowledge: STEM Kit, Building Colorado: Communities, and Building Colorado: Cities each have a unique set of curriculum and students activities to meet learning objectives. Only the Ute Knowledge: STEM Kit has similar curriculum for multiple grades. If your students participated in one of our other programs in a previous grade, Building Colorado Cities will be a new experience for them.
What do you need from the teacher?
Classroom set-up: This program requires students to be able to sit in groups, preferably at tables, though the floor can also work depending on the space.
Student groups: Students must be divided into eight groups (typically of groups of 3-4 students), preferably in advance of the program. Students will need to be in their groups at their tables at the start of the program. Students can play the game in groups as small at 1-2 students.
Technology: This program requires the use of the teacher's computer and projection system. Our museum's educators will log into the online presentation system Prezi and will use a presentation to lead students through the game.
Building Colorado is fully facilitated by Golden History Museum staff members, however teachers are encouraged to enjoy the game along with their students and assist in facilitation.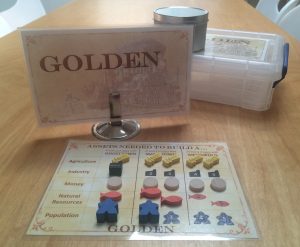 Can I schedule for just my class?
Yes, but it is cheaper to book the program for multiple classes.
Are there additional learning resources that I can use in my classroom?
Yes, we have compiled a variety of pre & post-visit lesson activities, which are available under on our Teacher Resources page.
Do you offer a virtual version of this program?
Due to the high demand of our in-person programs, we do not offer anything virtual at this time. Please considering using one of our online Teacher Resources.
Is there a discount for Title I schools?
Yes! There is a 20% discount for all Title I schools.
What if the weather turns bad on the scheduled day?
Generally Golden History Museum & Park follows the weather decisions for the school districts where we teach programs. If there is a cancellation or a delay, we will work with teachers to try and reschedule programs. We do take the safety of our educator's seriously and reserve the right to cancel or reschedule Building Colorado programs for inclement weather including but not limited to snow, wind, rain or extreme temperatures.  The museum hopes to make an informed decision 24 hours before the program begins, however, depending on the severity of the weather, a decision may need to be made the morning of the scheduled visit. If the need arises, the Education Department will work with the booking teacher to reschedule the program as quickly as possible.
I learned that if you want to, you can change history.
The in-class program offered by GHM has been a huge asset in meeting the common core standards of my Colorado history and economic curriculum. The students were engaged in the game immediately and didn't even realize they were applying concepts they had learned during the instruction of the units! I especially appreciated the packet of information I received before the program that helped me prep the kids for vocabulary and more effective implementation of the program!
Suzanne Scohy
I liked how it was our choice whether to risk the opportunity or not.
We LOVED the program! Our kids were thoroughly engaged and learning while having fun. Some of my boys even said, "It was worth it" when they realized they missed recess to complete the game. (That's huge!) We will definitely book again next year.
Stacey Helbig