Building Colorado: Cities
Building Colorado: Cities
A program for 4th grade, both virtual and in-person
[click here for 3rd grade, "Communities"]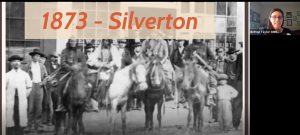 Engage fourth-graders in economic concepts through the fun lens of history with "Building Colorado: Cities."  Museum staff will facilitate this 90-minute game-based lesson on Zoom OR in the classroom. Students will work in teams to weigh the opportunity cost, incentives, and risks to make the same choices that historic Colorado cities faced. It fulfills content standards for all social studies topics and challenges critical thinking skills.
Virtual Program: For the 2021-2022 school year, we are only offering the virtual program for schools and classrooms that are fully remote. Due to staffing constraints, we are prioritizing meeting the current demand for our in-person program. Please email education@goldenhistory.org with questions.
The Building Colorado program won the Josephine H. Miles History Award from History Colorado.


Here's why teachers and students love Building Colorado: Cities
Fast-paced trading game
Led by museum staff
90 minutes long
Fulfills history and economics standards
Pricing
| | |
| --- | --- |
| Number of classes  | Price |
| 1 classroom | $130 |
| 2 classrooms | $235 |
| Each additional | $80 |
A 20% discount is available for Title 1 schools.
The prices shown above are the same for both the in-person version and the virtual version of this program. When an in-person version of this program is requested, we send a facilitator to your school or business which compensates the instructor for their travel at the current (2022) IRS rate of $.585 /mi. When a virtual version of this program is requested, we require two facilitators to be present on the Zoom call.
Registration
We are no longer booking for the 2021-2022 school year due to a full calendar. Thank you for the support and interest over the last year! It has been amazing to get back into classrooms. Reservations will open for the 2022-2023 school year in August. Please contact education@goldenhistory.org if you have questions about the Building Colorado programs.
Booking & Payment Policy
All teachers interested in the Building Colorado: Cities 4th Grade outreach program should complete the registration form at goldenhistory.org/bc4. Once your inquiry is received, you will be contacted by a staff member to finalize your booking for your classroom(s).
A 25% non-refundable deposit is required within 30 days of receiving your invoice to hold your reservation.
Final payment is due 30 days prior to your scheduled program.
If a program is cancelled less than 30 days prior to your scheduled program, the museum will refund the final payment minus the 25% deposit. The museum will work with you to reschedule if there are open options on our outreach calendar for the current school year.
If a program is cancelled due to inclement weather, the museum will work with the school to reschedule to another open date on our outreach calendar for the current school year.
---
Frequently Asked Questions
How long is the class?
REQUIRED for Virtual program: pre-lesson video activity (approx. 30 minutes)
In-Person or Virtual program facilitated museum staff (approx. 90 minutes, with short breaks)
Optional post-visit lessons are included. (variable by activity)
How does this relate to what I'm teaching?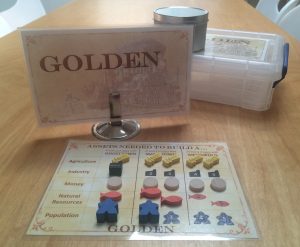 Building Colorado is an immersive game that re-imagines historic events. Topics include exploration, the 1859 Gold Rush, the fight for the railroad, statehood, the boom and bust of silver, and more. Students make economic decisions, take risks, and weigh incentives to advance their teams. 
What do you need from the teacher?
In-Person or Virtual: Prior to the in-person or virtual session, teachers must assign their students into 10 teams. It is essential that there are 10 groups, so if certain students have to play on their own that is ok.
Virtual only: Students must know their group number before watching the required video. The pre-lesson video MUST be watched before the live session.
Building Colorado is fully facilitated by Golden History Museum staff members, however teachers are encouraged to enjoy the game along with their students and assist in facilitation. During virtual sessions, teachers are asked to help manage student needs through the chat function.
What if there are internet connectivity issues?
The Virtual session is led by 2 Golden History Museum staff members. This provides a back up if one instructor is having internet or other technical issues, the other facilitator will just take over. If the issues are on the class/student side, there will be a procedure for making sure that students can access the information they need for the program. Email us for more information.
What digital platform do we use (i.e. zoom, webex, etc.)?
We are flexible and can use the program that the students are most comfortable with. Teachers can either host the meeting themselves on their preferred platform and give permissions to allow our staff to share their screen. Or, we can set up the meeting through zoom, webex, etc.
Students will also be given a google slide that will act as their game card. For questions or concerns about specific technical issues, please reach out to us at education@goldenhistory.org.
Does the virtual version have the same information as the in person one?
Yes, the virtual version meets all of the same standards as the in-person version.
Can I schedule for just my class?
Yes, but it is cheaper to book the program for multiple classes. We encourage teachers that want to book for their class work with colleagues to organize the program for all of the 4th grade classes.
What if my class goes from virtual to in-person between when I book and when the program is scheduled?
The program can be delivered virtually either as a group where each student is hooked into a device, or the program can be delivered where students who are in-person in one classroom can see and hear our facilitators. Note: Students will still need to have access to google docs, so they will need to have devices available. If this becomes an issue, we can work with classrooms on an individual basis to solve these issues.
One benefit of this program is that it can be adapted to whatever mode students are in, and can also be used in hybrid classrooms where half the students are in class and half the students are virtual.
Is there a discount for Title I schools?
Yes! There is a 20% discount for all Title I schools.
I learned that if you want to, you can change history.
The in-class program offered by GHM has been a huge asset in meeting the common core standards of my Colorado history and economic curriculum. The students were engaged in the game immediately and didn't even realize they were applying concepts they had learned during the instruction of the units! I especially appreciated the packet of information I received before the program that helped me prep the kids for vocabulary and more effective implementation of the program!
Suzanne Scohy
I liked how it was our choice whether to risk the opportunity or not.
We LOVED the program! Our kids were thoroughly engaged and learning while having fun. Some of my boys even said, "It was worth it" when they realized they missed recess to complete the game. (That's huge!) We will definitely book again next year.
Stacey Helbig