Field Trips
Golden City Trading Post 2019 Field Trip
Our K-5 field trip experience, May 8-10, 2019
GHM&P is excited to facilitate Golden City Trading Post, our fun field trip model! All field trips will occur on three "super" days in May. Partnering with multiple cultural organizations allows GHM&P to offer your school group an even greater selection of activities and experiences.
Alongside local partners, GHM&P will provide a myriad of activities and experiences at Golden History Park. All demonstrations and crafts will be linked to late 19th and early 20th century Colorado history, and suitable for K-5 students. Watch a blacksmith in action, explore life on the frontier, and even learn about Buffalo Bill! Your students will experience over 20 activities in our new, self-led field trip model.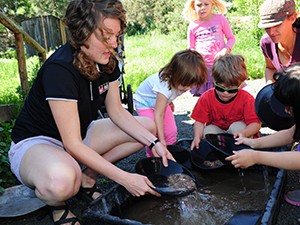 GRADES
K-5
WHEN
TBD
WHERE
Golden History Park in Golden, CO
REGISTRATION INFORMATION
Registration opens soon. Email us with questions.
COST
$5 per student
1 free adult chaperone is required for every 5 students
$5 fee for every additional adult
Payment is due on the day of your confirmed field trip. Invoices will be sent to your school's financial/office manager.
Home school groups will be required to pay at the time of booking.
GROUP SIZE
No minimum or maximum, however we require at least one chaperone for every 5 students.
PROGRAM LENGTH
Each group will be booked for a two-hour self-led tour throughout Golden History Park. There will be a large selection of diverse experiences throughout the park. Teachers will receive a pre-field trip informational packet with all activities prior to the event.
PROGRAM PARTNERS


Frequently Asked Questions
What is the structure of the field trip?
Students will explore our three-acre park in small groups, with their chaperone. Students and their chaperone can choose which activities to spend their time at and will have a map to see all of their options. Think of it like the zoo – but with history activities instead of animals to visit.
Will the park be secure and safe?
The park is only three acres and we will have plenty of volunteers, staff, chaperones, and teachers on site to help monitor students. The responsibility of monitoring each individual student will be placed on their parent chaperone.
Will my group be at Golden History Park with other students?
That depends on the size of your group and time of day. This experience is only open to K-5 students and chaperones; however, we may have multiple schools on site at the same time. The field trip will also be open to homeschooling families.
Can I bring my whole grade – or my homeschooling family?
Yes! Depending on the size of the group we will try to fit you into time slots with other groups, so that we do not overcrowd the park.
Are there resources to help me prepare myself and my students?
Teachers will be provided with pre-field trip materials via email.
Is there a justification sheet I can submit to my administrator?
If you would like a justification statement to submit to your administration, please email Annika with your students' grade and any other pertinent information.
Have another question? Email us.