Post-Visit: Wrap-up
Wrap-up after Building Colorado Lesson
Lesson takes between 10 minutes and 40 minutes
Objective:
Students will review the material taught during Building Colorado and reflect on the importance.
Summary:
A quick and easy lesson: because the Building Colorado program is jam-packed with fun and learning, we often don't get to do a full wrap-up of the activity. This lesson will give your students time to revisit, reflect, and extend the key concepts from the program and help the teacher to understand what was the most impactful.
Materials:
Slide to put up on projector
(Optional) if making thank you notes, then paper and coloring supplies or thank you note template
Wrap-up Lesson:
Put the slide up on the projector and review the questions. This should be very open-ended and let the students express their own reflection.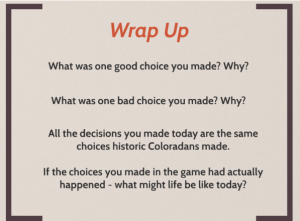 The final question sometimes needs a little prompting give them some of these examples:
What would have happened if Colorado had not built railroads?
Why did Colorado need to become a state?
What decisions did you make in your cities that still affect us today? Things like: building a prison, starting a state fair, or becoming the capital.
How would Colorado be different if we hadn't given women the right to vote?
Optional: Thank You Note activity
We love getting thank you notes from kids – and more importantly, it is a great way for kids to write a reflection of their experience.
This lesson is not meant to pressure you into sending us a note. We reiterate: You do not need to send thank you notes to us, but we always appreciate receiving them. You can also modify this to be a reflection writing assignment, a letter home to explain what they did today, or a diary entry.
But, we think it is a great opportunity for kids to find their own meaning in the lesson and to write a personal reflection on their favorite part and what they learned.
Template is provided, which you can print out, or students can make and design their own.