Ute Knowledge: STEM Kit
Ute Knowledge: STEM Kit
Recommended for Grades 3-5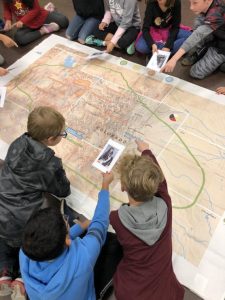 During this 90-minute program in your classroom students will investigate how the Ute people used science, technology, engineering and math to survive and thrive in the Rocky Mountains. Through activities such as an interactive map exploration, matching and challenges, students will work as a class and in smaller teams to test materials and strategies to see how Ute people solved problems in the past and still do today. This program meets history, math and science standards.
The Ute Knowledge History Take Out Kit is part of the Ute STEM Project, supported by the National Science Foundation. This program is possible through the expert knowledge and generous efforts of the representatives of Southern Ute Indian Tribe, The Ute Indian Tribe of the Uintah and Ouray Reservation, and the Ute Mountain Ute Tribe ("The three Ute Tribes.") and was developed by History Colorado.
Here's why teachers and students love the Ute Knowledge STEM Kit:
Hands-on and interactive
Develops problem solving skills
Fulfills history, math, and science standards
Pricing
Number of classes                           Price
1 classroom                                        $135
2 classrooms                                      $245
3 classrooms                                      $330
4 classrooms                                      $415
5 classrooms                                      $500
Each additional                                  $85
A 20% discount is available for Title 1 schools.
Our educators travel within the Denver Metro Area. An additional mileage fee is also charged in excess of 20 miles roundtrip to compensate our traveling educators per day of travel. The current rate for mileage is $.625 /mi. As much as possible, we try to book all of your classrooms for the same day.
click here to register
Booking & Payment Policy
All teachers interested in the Ute Knowledge: STEM Kit outreach program should complete the registration form here. Once your inquiry is received, you will be contacted by a staff member to finalize your booking for your classroom(s). Completing the online booking form does not confirm your dates. Your program is not confirmed until you receive an invoice. Dates fill up quickly. We recommend trying to reserve your desired date early.
A 25% non-refundable deposit is required within 30 days of receiving your invoice to hold your reservation.
Final payment is due 30 days prior to your scheduled program.
If a program is cancelled less than 30 days prior to your scheduled program, the museum will refund the final payment minus the 25% deposit. The museum will work with you to reschedule if there are open options on our outreach calendar for the current school year.
If a program is cancelled due to inclement weather, the museum will work with the school to reschedule to another open date on our outreach calendar for the current school year.
Frequently Asked Questions
How long is the class?
This is a 90-minute program facilitated by a museum staff member. We know that it can be difficult to try to find a 90-minute block of time in your schedule. We often have teachers rearrange specials if needed.
How does this relate to what I'm teaching?
The Ute Knowledge: STEM Kit allows students to investigate how the Ute people used science, technology, engineering, and math to survive and thrive in the Rocky Mountains. It places the Ute people in their historical and geographical context while also exploring the richness of their modern communities.
The third graders at my school had this program last year. How different is the 4th/5th grade program?
The Ute Knowledge: STEM Kit curriculum is the same across grades; the conversation and activities are adapted to meet the learning level of students, but the students are generally completing the same tasks. We recommend considering our Building Colorado: Communities or Building Colorado: Cities programs.
What do you need from the teacher?
Classroom set-up: This program requires a space for students to sit on the floor around a giant map of Colorado. It also requires group work at six stations. We can also set up in an empty classroom, library, or gymnasium.
Student groups: Please divide students into six groups prior to the facilitator's arrival.
Technology: This program does not require technology, but we can use it to enhance the program if available.
The Ute Knowledge: STEM Kit is fully facilitated by Golden History Museum staff members; however, teachers are encouraged to participate.
Can I schedule for just my class?
Yes, but it is cheaper to book the program for multiple classes.
How does this program differ from your other outreach programs?
Each of our outreach programs, the Ute Knowledge: STEM Kit (Grades 3-5), Building Colorado Communities (Grade 3) and Building Colorado Cities (Grade 4) are completely unique and address different aspects of curriculum for grades 3-5. The three programs complement each other, and we have many schools that bring each of our programs in each year for their different grades.
Are there additional learning resources that I can use in my classroom?
Yes, we have compiled a variety of pre & post-visit lesson activities, which are available under on our Teacher Resources page. Most of them are pulled from the Nuu-cui Strong 4th Grade Resource Guide developed in collaboration with the Colorado Department of Education and History Colorado's online resources.
Is there a discount for Title I schools?
Yes! There is a 20% discount for all Title I schools.
What if the weather turns bad on the scheduled day?
Generally Golden History Museum & Park follows the weather decisions for the school districts where we teach programs. If there is a cancellation or a delay, we will work with teachers to try and reschedule programs. We do take the safety of our educator's seriously and reserve the right to cancel or reschedule Ute Knowledge programs for inclement weather including but not limited to snow, wind, rain, or extreme temperatures.  The museum hopes to make an informed decision 24 hours before the program begins, however, depending on the severity of the weather, a decision may need to be made the morning of the scheduled visit. If the need arises, the Education Department will work with the booking teacher to reschedule the program as quickly as possible.