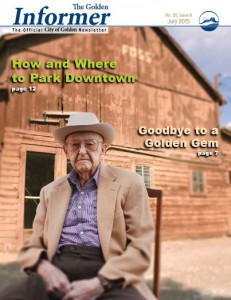 Beautiful scenery and weather attracted Chicago-based silent-movie producers to Colorado in the early 1900s. The earliest was the Selig Polyscope Company, who made over 50 films in the state. In 1907, Gilbert Anderson directed three action-packed westerns (his first) in Golden:
The Bandit King-16 minutes with a sensational train robbery and bank holdups. This film featured Golden's Overland House Hotel as the "County Bank".
The Girl from Montana-a two minute short featuring a heroine played by young Denver actress Pansy Perry riding a horse at top speed to save her sweetheart from hanging.
Western Justice
Gilbert Anderson had this to say about early filmmaking:
… we went over to Golden, Colorado, and I figured on making a western picture there. I got an idea and wrote a very trivial story, and looked around for somebody to play the lead. I got together a few cowboys-I had to use a couple of girls as cowboys, couldn't get enough cowboys—and I made several pictures there.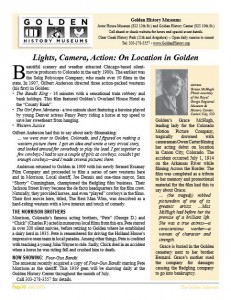 Anderson returned to Golden in 1909 with his newly formed Essanay Film Company and proceeded to film a series of new westerns here and in Morrison, CO. Local sheriff, Joe Dennis and one-time mayor, Sam "Shorty" Cunningham, championed the fledgling film business. Their Jackson Street livery became the de facto headquarters for the film crew. Naturally, they provided horses, and even "played" cowboys in the films. Their first movie here, titled, The Best Man Wins, was described as a hard-riding western with a love interest and touch of comedy.
The Morrison Brothers
Morrison, Colorado's famous acting brothers, "Pete" (George D.) and "Chick" (Charles P.) acted in numerous local films from this era. Pete starred in over 200 silent movies, before retiring to Golden where he established a dairy herd in 1935. Pete is remembered for driving the Holland House's impressive oxen team in local parades. Among other things, Pete is credited with teaching a young John Wayne to ride. Sadly, Chick died in an accident when a horse he was riding fell and crushed him to death.
Now Showing: The Four Gun Bandit
The museum recently acquired a copy of The Four Gun Bandit starring Pete Morrison as the sheriff. This 1919 gem will be showing daily at the Golden History Center throughout the month of July.
A Leading Lady from Golden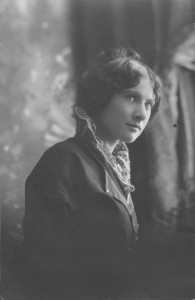 Golden's Grace McHugh, leading lady for the Colorado Motion Picture Company, tragically drowned with cameraman Owen Carter filming her acting debut on location in Canon City, Colorado. The accident occurred July 1, 1914, on the Arkansas River while filming Across the Border. The film was completed as a tribute to her memory and promotional material for the film had this to say about Grace:
… (the tragedy) robbed picturedom of one of its greatest artists …Miss McHugh had before her the promise of a brilliant life. She was a true actress—a conscientious worker—a woman of character and strength.
Grace is buried in the Golden cemetery next to her brother Bernard.  Grace's mother sued the company for damages causing the fledgling company to go into bankruptcy.
That's all folks.
–Mark Dodge, Golden History Museums Curator