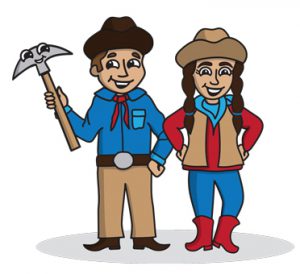 Museum staff are always looking for new ways to get families excited about Golden's history. Over the last couple of months, we have been collecting feedback from both adults and kids in order to create a new mascot for family-oriented labels which will soon be installed in the museum. We think these family labels will engage family members of all ages.
The survey showed five different mascots. Participants chose which mascot they liked the most and gave suggestions on which best represented Golden. In the end, over 200 people of all ages took the survey.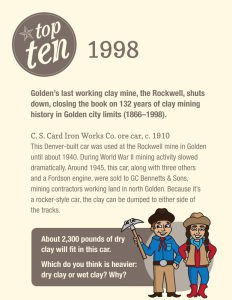 The results showed that people liked some aspects of each of the mascots. In the end, the museum used all of the comments and ended up combining three characters to create a "family" of mascots. These characters will show up on labels individually or as a group. In the future, they may get names and their family may even grow. We have been discussing giving them a pet, maybe even a chicken, to represent our popular year-round residents at the Golden History Park.
If you want to let us know what you think of our new mascots or have suggestions for what their names could be, send us an email at info@goldenhistory.org or make a post at Facebook.com/GoldenHistoryMuseum.