How does the museum decide what to research?
The following article originally appeared in the May 2015 issue of The Golden Informer.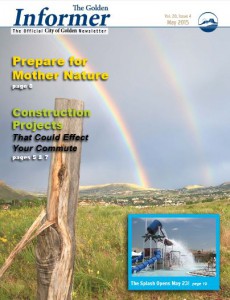 Every year museum staff undertakes new research areas. Sometimes this means identifying undocumented items already in the collection and deliberately fleshing out their local significance, if any (such as finding an 1858 Gold Rush-era map of Golden City in off-site storage last summer). Sometimes it means researching an unknown or underappreciated aspect of Golden's history. (There are many: What was Golden's first pizza joint? Where was the red light district?) Sometimes we're on a crusade to verify information that already exists and challenge assumptions. (Is Golden really named for Tom Golden?) Sometimes we're driven by external factors to record community change. A beloved Golden business is closing (Heritage Square) or a landmark is slated for demolition, for example. And sometimes, we're pursuing a personal curatorial interest (I love old Westerns, so I'm fascinated with Golden's role in the nascent silent film industry).
How you can help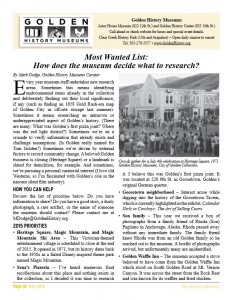 Review the list of priorities below. Do you have information to share? Do you have a good story, a dusty photograph, a rare artifact, or the name of someone the museum should contact? Please contact us with details.
2015 priorities
Heritage Square, Magic Mountain, and Magic Mountain Ski Area – This Victorian-themed entertainment village is scheduled to close at the end of 2015. It opened in 1971, but its history dates back to the 1950s as a failed Disney-inspired theme park named Magic Mountain.
Sena's Pizzeria – I've heard numerous fond recollections about this place and nothing exists in the collection, so I decided it was time to research it. I believe this was Golden's first pizza joint. It was located at 226 9th Street in Goosetown, Golden's original German quarter.
Goosetown neighborhood – Interest arose while digging into the history of the Goosetown Tavern, which is currently highlighted in the exhibit, Calendar Girls to Cowboys: The Art of Selling Coors.
Son family – This year we received a box of photographs from a family friend of Rhoda (Son) Pagliano in Anchorage, Alaska. Rhoda passed away without any immediate family. The family friend knew Rhoda was from an old Golden family so he reached out to the museum. A boxful of photographs arrived, but unfortunately many are unidentified.
Golden Waffle Inn – The museum accepted a stove believed to have come from the Golden Waffle Inn which stood on South Golden Road at Mt. Vernon Canyon. It was across the street from the Rock Rest and was known for its waffles and fried chicken.