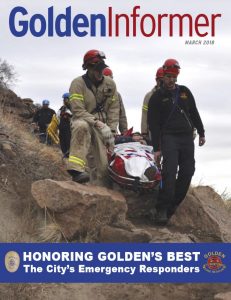 This article originally appeared in the March 2018 Golden Informer.
Golden History Museum & Park's Hands-on History summer camp will feature a new full-day theme this year for 9- to 12-year-old campers entitled Silent Stars. The camp explores the history and production of silent films in 1920s Colorado.
Colorado has a long history of silent film production and Golden was an ideal location for western themed movies. East Coast filmmakers moved many of their productions to Colorado in the early 1900s because the clear air and temperate weather allowed for filming year round. 
Golden History Museum & Park recently acquired a copy of a 1909 silent movie that was filmed in Golden. This film, A Ranchman's Rival, was produced by the Essanay Film Company, of Chicago, Illinois, and will be shown at Golden History Museum in a new exhibit slated to open in June of 2018. Essanay is known for their involvement with the series of Charlie Chaplin comedies of 1915.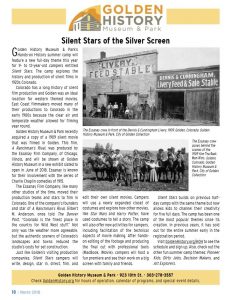 The Essanay Film Company, like many other studios of the time, moved their production teams and stars to film in Colorado. One of the company's founders and star of A Ranchman's Rival, Gilbert M. Anderson, once told The Denver Post, "Colorado is the finest place in the country for Wild West stuff." Not only was the weather more agreeable, but the authentic scenery of Colorado's landscapes and towns reduced the studio's costs for set construction.
Just like Golden's visiting production companies, Silent Stars campers will write, design, star in, direct, film, and edit their own silent movies. Campers will use a newly expanded closet of costumes and explore how other movies, like Star Wars and Harry Potter, have used costumes to tell a story. The camp will also offer new activities for campers, including facilitation of the technical aspects of movie making. After hands-on editing of the footage and producing the final cut with professional tools (MacBook, iMovie), campers will host a fun premiere and see their work on a big screen with family and friends.
Silent Stars builds on previous half-day camps with the same theme but now allows kids to channel their creativity for five full days. The camp has been one of the most popular themes since its creation. In previous years, it has sold out for the entire summer early in the registration period.
Visit GoldenHistory.org/HOH to see the schedule and sign up. Also, check out the other fun summer camp themes: Pioneer Kids, Dirty Jobs, Decision Makers, and Art Explorers.