It's been a while since we've posted an update about what's happening at Astor House, so we wanted to catch you all up! (Remember to follow us at www.facebook.com/astorhousemuseum for all the latest updates.)
Originally, we created a rehabilitation plan that would minimally disturb the plaster walls and ceilings. But, once we learned about the pervasiveness of asbestos, we elected to fully abate the building. By necessity, the interior walls had to be nearly destroyed to remove the contaminated material. Now that the walls and ceiling were totally exposed, we were no longer constrained to work around the aged plaster. We paused for a moment to consider whether we should modify our structural support system.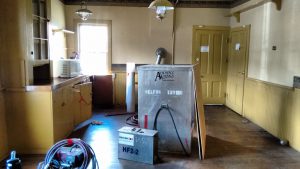 We consulted with our engineers and contractors and identified some potential alternate designs. After carefully weighing additional costs and time, we elected to stay the course and continue with the original plan. We are excited to announce that we gave the contractors Notice to Proceed with construction and work should begin late June.
At the same time, staff completed a full inventory and removal of objects from Astor House in anticipation of major structural work beginning this summer. Staff began planning for object removal prior to Astor House closing to the public in September 2015. They inventoried rooms, compared objects to database records, and prioritized collections.
Items that were known to have a strong provenance (authentic historic verification) to Astor House or Golden were relocated to the museum's offsite storage. Objects with no known provenance but identified as useful for future museum activities were also saved. Objects without provenance, in poor condition, or redundant were deaccessioned (removed and disposed). A handful of deaccessioned items were transferred to other museums with stronger ties to the object. The remaining objects were sent an auction house and sold. Per our Collections Policy, proceeds from the auction were placed in a restricted fund used exclusively for acquisition of new objects or direct care of existing collections items.
Now we turn to the important work of rehabilitation and stabilization to keep Astor House standing another 150 years!