The Volunteer Field Trips Continue…The Rocky Mountain Quilt Museum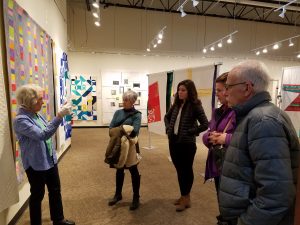 Honestly, going into this tour I knew very little about quilts—I always found them pretty but felt quilts did little more than jazz up a bed set. However, thanks to the Rocky Mountain Quilt Museum and their volunteer facilitator, Sandy, I can admit that I was terribly mistaken!
Simply put, quilts are works of art.  Walking into this museum felt like I was walking into a modern art center, with quilts classily hung on the walls. Much like paintings, each quilt tells a different story and gives the viewer insight into the artist's life.  Ranging from choice of materials, patterns, and stitch design, each quilter tells their own story through their work. Truly, these quilts are very impressive and will leave you with an appreciation for the time and energy it takes to create them.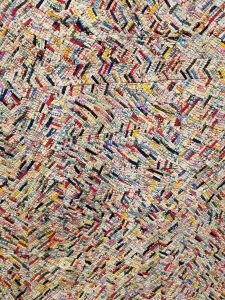 Many quilts, for example, are solely created from recycled pieces. Rather than tossing worn out shirts, jackets, pants, blankets, etc., many quilters saved these fabrics and transformed their scraps into functional works of art. One specific quilt comes to mind: on view is a hand-stitched quilt that took 25 years to create, from 1910-1935, and is made from 37,000 scrap pieces of fabric! I cannot imagine the dedication and tenacity this quilt required to make!
The Quilt Museum rotates their galleries every few months and often provides a volunteer facilitator to enhance the visitor's experience. If you have not done so already, I highly recommend paying the Quilt Museum a visit.  
— Megan Murphy, Visitor Services and Interpretation Coordinator