Austrian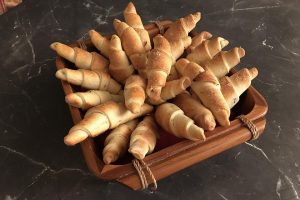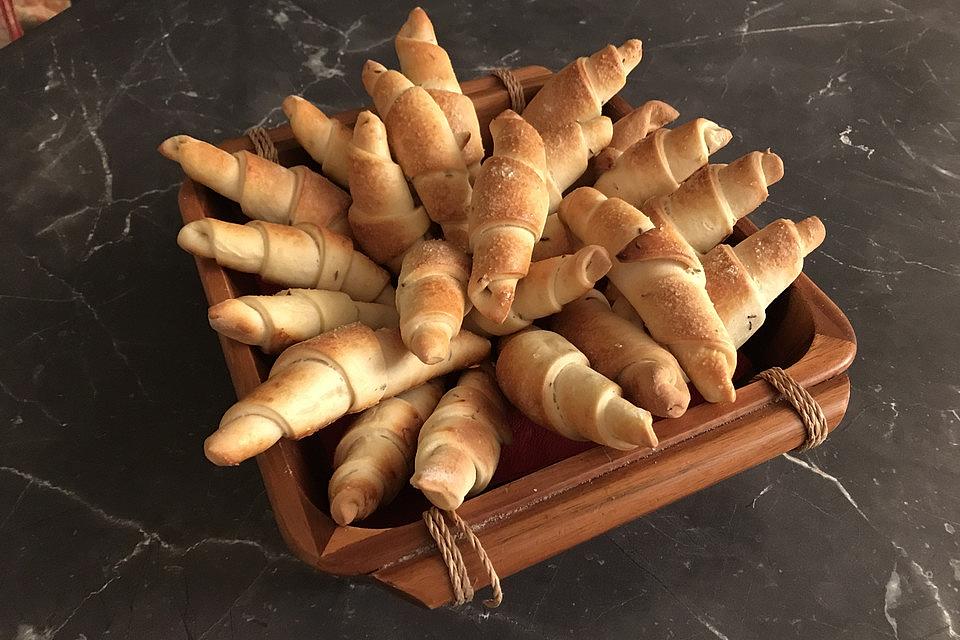 Salzstangerl are traditional breakfast or snack bread sticks from the eastern Austrian region of Burgenland on the Hungarian border. This recipe was given to me from my cousin Ingrid from Eisenstadt, Austria. I modified this to account for American measurements and ingredients.
Ingredients – 12 Salzstangerl
4 cups flour
1 teaspoon of salt
½ teaspoon of sugar
1 tablespoon of dried, instant yeast
1 ¼ Cup lukewarm milk
2 TBS melted butter
Coarse sea salt
Caraway, poppy or sesame seeds
1 Egg (optional for egg wash)
How to make Salzstangerl
First, prepare the "dampfl" (yeast mixture). Add ½ cup of the lukewarm milk, sugar, yeast and 2 tablespoons of flour into a large bowl and mix together. Leave to rest in a warm place for about 30 minutes to rise and get foamy.
Add the remaining ingredients to make the dough and leave to rest again.
Preheat the oven to 400° F.
Divide the dough into 2 equal parts. Roll out dough onto floured surface. Form round pizza shape with ½ inch thickness.
Using a knife or pizza cutter, cut the dough into six triangle pizza wedges.
Beginning at the wide "crust" end of the slice, roll the dough into a tight crescent shape. Should resemble a croissant.
Repeat with second dough ball. Yields 12 Salzstangerl.
Put all the pieces onto baking sheet with parchment paper.
Cover with a clean kitchen towel and let rest in a warm place for 15-20 mins.
Brush rolls with egg wash or spray with water. Sprinkle with sea salt and seeds.
Bake on the middle shelve of the oven until brown for approximately 15-20 mins.
Cool on a wire rack.
–Nathan Richie, Director