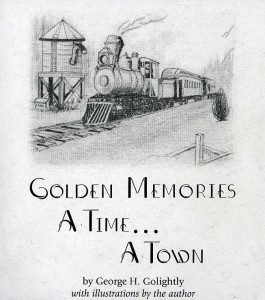 I enjoy collecting and reading first-hand accounts of life in Golden. My current favorite is a self-published book titled, Golden Memories A Time…A Town, written by George H. Golightly. George, whose family first settled in Golden in 1876, paints a picture of the Golden he knew growing up in the 1920s. George originally wrote the book to share his memories with family; however, I think you'll agree that these stories are interesting to anyone with the slightest interest in Golden history. And if the stories don't appeal, maybe the illustrations will. George illustrated the book himself and even drew a map showing the lay of the land in 1920.  
Over the next few months I plan to share excerpts via this blog. Since we have some snow on the ground I thought I'd start with George's story about sledding down Washington Avenue.
Sleigh Riding
The highly specialized snow-fun industry, as we know it today, is somewhat different from the sleigh riding we knew as youngsters. Homemade sleds, called cheese cutters, were made with two runners under a wooden box, barrel stave skis and clamp skates. They made our winter fun just those few short years ago. Snow machines to make artificial snow were unheard of, and there were few organized ski areas with ski lifts.
There was a small ski area on Genesee mountain with a small four foot high jump. Skis were still an oddity and supposedly to be used for necessary travel on snow too deep to wade through.
Winter sleigh riding as a youngster was to me a most exhilarating pastime and sport. Nothing was more exciting than sleighing down Golden's many hills, especially Courthouse hill on top of Washington Avenue, Golden's main street.
Each evening during the sleighing season, my Dad, the town Marshal, and his partner and fellow officer, Tom Rowe, set up road blocks at the 11th, 12th, 13th, and 14th Street intersections with Washington Avenue. At nine P.M. the kids were told to go home and then the road blocks were removed. There was little if any traffic because most automobiles were home in the garage. Some were even up on blocks and their radiators drained for the winter.
Street car traffic could not be blocked but since the street cars had a regular one-half hour schedule it was easy to avoid their one block use of Washington Avenue.
My cousin Bus Morris, had a large Flexible Flyer sled which was enjoyed by many of us kids. After we pulled the sled up the steep Court House hill, it was time to stop and savor the expectant thrill of the upcoming swift, long ride down the hill, possibly as far as the Washington Avenue bridge.
Bus would point his sled downhill, then lay flat on his stomach. His hands anchored the sled while as many kids as possible lay on top of him. The top kid was quite high in the air and was by rule the smallest of all. Usually that kid was Heinie Foss. After Heinie was perched precariously on top, (usually helped by a friendly School of Mines student), the takeoff was next. Again several CSM students would push our great adventure off to a fast start. The sled full of screaming kids must have hit 45 miles per hour or more by the time it passed the 13th Street block.
If Bus did his usual good job of steering and if no one fell off, the sled might end up on the Avenue bridge, five blocks away. After the exhilarating fast ride down the hill, the real work started – dragging the sled back up that hill.
 –Mark Dodge, Curator