Stewarding the City of Golden's collection of historic objects is central to the mission of Golden History Museums and an important role that is not undertaken lightly. For nearly 80 years, the City's collection has grown to include more than 15,000 objects. From the tiniest family photograph to the largest steel mining cart, these objects tell the many important stories of the people and events that have shaped and defined our community.
It is our cherished responsibility to not only collect these objects, but to store, conserve, and share them for the benefit of posterity. In order to do so, professional museum staff must continuously review and assess the quality, condition, and importance of items in order to be able to prioritize needs and allocate resources for their continued preservation and storage. Deaccession—the process of reviewing, removing, and ultimately disposing of artifacts that are repetitive of existing holdings, in poor condition, or no longer fit within a collection's scope—is an important tool utilized by museums worldwide to manage collections in order to afford greater ability to care for the most significant objects.
For decades, Astor House Museum was furnished with objects intended to depict the Victorian era. Items were purchased at antique shops or generously donated by local community members. Yet, records show that the vast majority of objects once displayed in Astor House had no documented connection to the building or the community. When the time arrived to prepare the building for a full historic rehabilitation, it became necessary to address how to prepare and store this large volume of items.  After thoughtful and careful review, those few objects known to have provenance (verified historic ties) to the building and community were retained and moved to storage. The remaining items that were in poor condition, reproductions, or irrelevant to the mission were deaccessioned and removed from the collection. Ultimately, it is quality—in historic documentation, condition, and importance—that determines a collection's value, not quantity of material.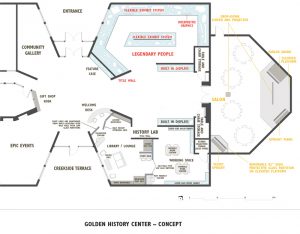 Golden History Museums understands the powerful role artifacts play in telling our history. It is for this reason we launched the Discovery Awaits campaign—a new initiative to completely renovate and transform the Golden History Center into a vibrant, welcoming space for the community to explore our history. The new experience will bring the exciting, behind-the-scenes work of learning about and caring for historic collections to the front of house. We invite you to learn more about the City's collection at our website www.GoldenHistory.org. View more than 2,000 digitized historic photos, learn about classes and programs, and get a glimpse of renovation plans!
–Nathan Richie, Director