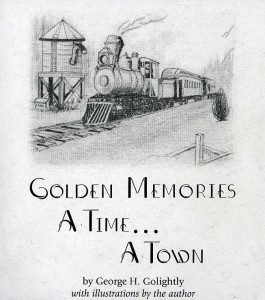 The second installment from Golden Memories A Time…A Town by George H. Golightly comes from Chapter Four, titled Odd Memories.
Golden Telephones
Grandfather Golightly had a telephone installed in his home at 920 Seventh Street in 1918.
My parents instructed my brothers and I to memorize that telephone number as if our lives depended upon it. What an important number it could be if we were lost or had some other kind of emergency and I will remember that number, 112-J, forever. Grandfather's house was diagonally across the street from ours and it was easy for grandfather or grandmother to hurry across the street with a message if need be. Wasn't that what grandparents were for?
Other telephones in town were few and far between. The Police Department, City Hall, Doctor's offices and the grocery store had telephones, but residential telephones were not yet affordable to most folks.
Long distance calls were hard to make and harder to hear. All the neighbors left instructions with their distant relatives that in an emergency they were to dial 112-J and the message would get to them. This meant that Granddad or Grandmother made many middle of the night walks to a neighbor with some kind of distress call, after having first made the long walk downstairs to answer the telephone. Most of the messages were about far away illness or death but my Grandparents never complained about the inconvenience.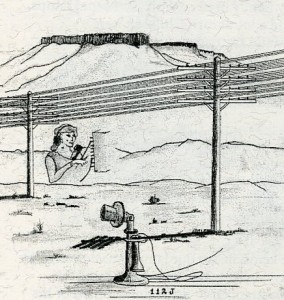 In those days, a telephone was activated as now by lifting the receiver from its cradle, which was a "hook" located on the side of the mouth piece stand. After a pause, sometimes a very long pause, a voice would come on and say, "number please?" That would be the telephone operator, better known as "Central". Maybe central was a neighbor's daughter or wife but her position was very prestigious as well as mysterious. When Central was known, she was given a great deal of respect.
If the number you gave Central was busy, she would tell you so very politely and advise you to call again. If you told Central the call was an emergency, she would break into the busy conversation and tell the talkers that one of them had an emergency call.
In those days Doctors made house calls and, although many horse and buggy doctors also had telephones, it was becoming commonplace to have the Doctor appear very quickly in his "Tin Lizzy".
Central often called back to tell you she could place your delayed call now. How courteous and kind most telephone operators were. Marie Nankervis Stewart was one I'll always remember along with that number…112-J!
Next time…Golden Streets.
 –Mark Dodge, Curator