15,548. That's the number of artifacts currently recorded in the museum database. As the year ends, we have accepted close to 70 donations since January.
The year 2018 promises an entirely new experience at the museum—one that includes dozens of new artifacts in four new galleries. Until then, here are a few of my favorite new artifacts for 2017.
2017 Artifacts: Essanay Film Company, Woods Mortuary, Coors
Digital copy of the movie, A Ranchman's Rival and related Essanay filming photographs, 1909
One of several silent movies filmed in Golden by the Essanay Film Company, our copy comes from an original located at the Library of Congress in Washington, D. C. It portrays a well-worn love story where two men fall for the same woman. I won't give the ending away. Relatedly, the Essanay Film Museum donated four digital photographs of the film crew in Golden.
Woods Mortuary collection 
Golden's homegrown mortuary closed its doors on June 30, 2017, after 100 years in business. Highlights include the brass building plaque, two cremation urns (one sized for adults and one for children), a metal casket bier (a fancy stand), and the grandfather clock from the lobby.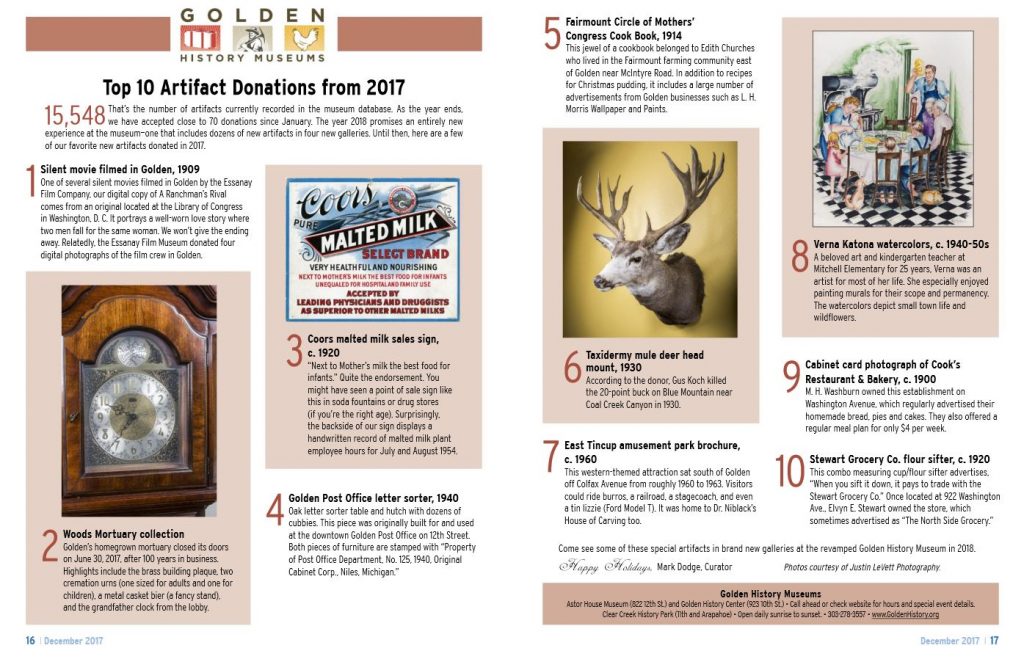 Coors malted milk sales sign, c. 1920
"Next to Mother's milk the best food for infants." Quite the endorsement. You might have seen a point of sale sign like this in soda fountains or drug stores (if you're the right age). Surprisingly, the backside of ours displays a handwritten record of malted milk plant employee hours for July and August 1954.
2017 Artifacts: Post Office, Cook Book, Mule Deer
Golden Post Office letter sorter, 1940
Oak letter sorter table and hutch with dozens of cubbies. This piece was originally built for and used at the downtown Golden Post Office on 12th Street. Both pieces of furniture are stamped with "Property of Post Office Department, No. 125, 1940, Original Cabinet Corp., Niles Michigan."
Fairmount Circle of Mothers' Congress Cook Book, 1914 
This jewel of a cook book belonged to Edith Churches who lived in the Fairmount farming community east of Golden near McIntyre Road. In addition to recipes for Christmas pudding, it includes a large number of advertisements from Golden businesses such as L. H. Morris Wallpaper and Paints.
Taxidermy mule deer head mount, 1930 
According to the donor, Gus Koch killed the 20-point buck on Blue Mountain near Coal Creek Canyon in 1930.
2017 Artifacts: East Tincup, Verna Katona, Cook's Restaurant, Stewart Grocery Company
East Tincup amusement park brochure, c. 1960
This western-themed attraction sat south of Golden off Colfax Avenue from roughly 1960 to 1963. Visitors could ride burros, a railroad, a stagecoach, and even a tin lizzie (Ford Model T). It was home to Dr. Niblack's House of Carving too. 
Verna Katona watercolors, c. 1940-50s
A beloved art and kindergarten teacher at Mitchell Elementary for 25 years, Verna was an artist for most of her life. She especially enjoyed painting murals for their scope and permanency. The watercolors depict small town life and wildflowers.
Cabinet card photograph of Cook's Restaurant & Bakery, c. 1900
M.H. Washburn owned this establishment on Washington Avenue, which regularly advertised their homemade bread, pies and cakes. They also offered a regular meal plan for only $4 per week.  
Stewart Grocery Co. flour sifter, c 1920
"When you sift it down, it pays to trade with the Stewart Grocery Co." So the combo measuring cup-flour sifter advertises. Once located at 922 Washington Avenue, Elvyn E. Stewart owned the store, which sometimes advertised as "The North Side Grocery."
Come see some of these special artifacts in brand-new galleries at the revamped Golden History Museum in 2018.
Happy Holidays,
Mark Dodge, Curator

This article originally appeared in the December 2017 Golden Informer.