A shorter version of this article appears in The Golden Informer.
Traditional Swedish Holiday Cookies
By Kathleen Eaton, Interpretation and Visitor Experience Coordinator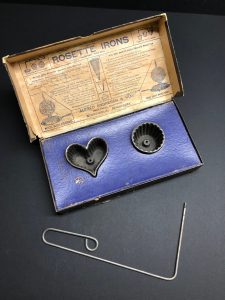 Tucked in the collection of the Golden History Museum is a small unassuming box. Inside are two iron molds in the shape of a heart and a circle. Listed as "Rosette Patty Irons", these pieces point to a larger story of immigration in not only the United States, but Golden as well. While the pieces are not tied to a specific donor, the rosette irons were made by the Alfred Andresen & Co. in Minneapolis (1893-1913), that marketed cooking utensils to the regional Swedish immigrant population.
Rosettes are a light, deep-fried cookie often served coated with powdered sugar. Scandinavian in origin, the cookies are commonly made during the Christmas season. Similar versions of the cookie exist in other countries, each originating separately. The iron is be coated in batter (made with sugar, salt, eggs, milk and flour), then dipped in hot oil until the batter falls off when crispy. While a floral shape is common, other shapes are also used as seen by the irons in the museum collection.
Golden and its surrounding area had its fair share of immigrants from Sweden, and it seems likely the rosette irons are from one such family. Looking through census records from the late 1880s through the early 1900s, Swedish immigrants are not uncommon to find. Many built their lives and families in here, with children frequently having Colorado listed as their birthplace. According to the Library of Congress, between 1861 and 1881, 150,000 Swedes immigrated to the United States. Not only did companies and local governments recruit immigrants to the west, but the promise of open land also encouraged westward movement.
Both the Wikstrom and Rudin families ranched in the Golden area, having immigrated to the area between the 1860s-1870s. The museum holds a collection of items from these families ranging from photos and paintings to simple household items such as a coffee grinder. However, these two families are only a small sample of the Swedish immigrants who called Golden and Jefferson County home. They likely continued with traditions from home, including making rosettes or other traditional cookies each holiday.
This winter in Golden
Join us at the Golden History Park on December 17 from 2 – 5 p.m. at Homestead for the Holidays to enjoy the winter season just like the pioneers did. From polka in the schoolhouse to cookies in the Pearce/Helps cabin, we explore different pioneer experiences. Looking to try your own cookies? Below is a recipe for pepparkakor – a classic Swedish ginger cookie. The spices in the cookie may have been a treat to add in during the holidays, and the sugar piping gave a chance to express some artistic talent.
Swedish Pepparkakor (Ginger Cookies)
1 c. butter, softened
3/4 c. granulated sugar
3/4 c. brown sugar
1 egg
2 T. molasses
1 T. Milk
3 1/4 c. flour
1 t. baking soda
2 t. ground ginger 
1 t. cinnamon
1 t. ground cloves
1 t. ground nutmeg
1 t. allspice
1 t. cayenne or black pepper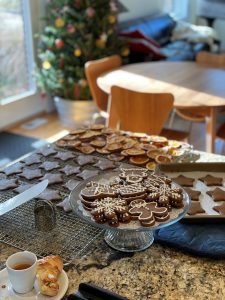 Cream butter and sugars together in large bowl. Add egg, molasses, and milk. In a separate bowl, combine remaining ingredients (flour through pepper), whisking or sifting together to combine well. Mix dry ingredients into wet until no streaks of flour remain. Refrigerate dough 2-6 hours until well-chilled. If time allows, an overnight refrigeration is best to let flavors develop and make rolling out dough easier. 
When ready to bake, preheat oven to 375 degrees F. Roll out dough until about 1/8" thick (try this between two sheets of parchment) and cut into your favorite shapes.  Place cut shapes onto parchment lined baking tray. Bake for 5-7 minutes (depending on shape and thickness) until toasty and golden. Cool 2 minutes on baking sheet and then remove to cooling rack.
* Recipe adapted for baking at altitude of 5,000 – 6,500 feet (Golden: 5,675'), if baking below 5,000 feet reduce baking temperature to 350 degrees F and increase baking soda to 2 t.