What is probably one of the saddest incidents that ever occurred in or near Golden was when two little boys, Donald J. Mattas, 8, and Milo M. Flindt, 11, children of defense workers living in Lakewood, were found Sunday morning, after a stormy late Saturday afternoon, dead at the foot of Castle Rock, a lava escarpment 175 feet high.  Colorado Transcript, April 15, 1943
On Saturday April 10, 1943, William Eugene Wymer, age 16, and two friends decided to climb to the top of Castle Rock in Golden. On the way up, Wymer and friends overtook two younger boys from Lakewood, Donald J. Mattas and Milo M. Flindt, who were also climbing the rock. Wymer and friends began harassing them. Upon reaching the top and without warning Wymer pushed Flindt over the edge; he then grabbed Flindt's friend Mattas and threw him over the edge too. Mattas died on impact. Flindt lived long enough to tell another group of kids climbing the rock that a "big boy pushed them off the rock," before dying.
The murders were well-publicized throughout the Denver metro area and beyond, sparking editorials about the growing problems of youth delinquency and moral decline. All familiar arguments we still hear today when tragedy strikes.
The case was closed on July 2, 1943, when William Wymer was found guilty of slaying the two young boys and sentenced to life in prison.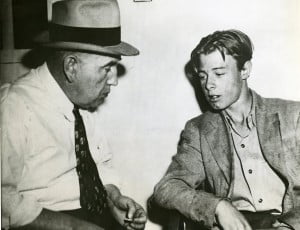 I recently acquired this press photograph of William Eugene Wymer confessing to Jefferson County Sheriff Howard Vincent for the museum collection; thanks to the generosity of museum volunteer Dennis Potter. Come by the history center and you can see an actual copy of the Colorado Transcript story quoted above. It's currently on view in Show & Tell.
No doubt, this is one of the saddest incidents that ever occurred in Golden.  
–Mark Dodge, Curator