As promised, here's a nearly complete inventory of Golden's 1968 time capsule. Below is a long list, in no particular order, to peruse. For ease of organization, we've sorted contents into folders. Enjoy! 
Items in Folders
Foldered items: Large folding map of Denver and surrounding region focusing on entertainment and tourist venues; booklet "1968-69 Colorado Skiing" prepared by the Colorado Visitors Bureau; tourist brochure "Rough It In Style in Jefferson County, Colorado"; several documents from the Golden Chamber of Commerce including a list of the Officers and Board of Directors a list of churches, hospitals, and schools, minutes of the Planning and Promotion Committee, and an informational sheet about living in Golden; a brochure from the Colorado Railroad Museum; a list of churches, hospitals, and schools provided by the Golden Chamber of Commerce; a promotional newspaper titled "Golden Colorado" featuring points of interest in the region; and a promotion booklet "Colorful Colorado Invites You!"
Foldered items from Coors: 2 promotional booklets for the Adolph Coors Company; 2 Coors real photo postcards showing an aerial view of the Coors plant; promotional booklet "Coors Maintaining Beer Quality"' an unused matchbook of Coors promotional matches from the Courtesy Room; a welcome brochure to the Adolph Coors Company; a promotional pen reading "Coors America's Fine Light Beer" on it, wrapped in cellophane; a plastic pocket calendar for 1969 with a Coors logo on the bottom and a photo of the Coors plant on reverse; and a business card from John C. Kerr, Advertising Manager for Coors.
Foldered Items: A folded piece of notepaper with a note from Randy Elliott and Karen Deyo, both 6th graders at Mitchell Elementary school; a notecard with the name and relatives of Leonard K. Dunn, Councilman and owner of Spudnuts of Golden on 13th Street; a pin and note commemorating the 21st Annual Conference of the American Legion, written by James E. and Esther L. Conahan; an unused postcard with a color photo of the interior of the Golden Pioneer Museum.
Foldered Items: "Merry Christmas in 1968 card" from the Pi Warrens, including a typed historical narrative of Golden's Liberty Bell and the 1918 time capsule; a printed program for the 1968 time capsule ceremony and handwritten remarks on cards; a typed sheet "America's Message;" a letter from Rod Henderson of the Golden Jaycees regarding the Golden Liberty Bell and the 2018 time capsule; a copy of Golden's Jaycee Roster and minutes of a membership meeting on 21 April, 1969; a copy of "Golden's Liberty Bell" narrative.
Foldered Items: Newspaper clipping "Pioneer of the Month" Daniel Webster Thatcher; a list of members of the Alpha Phi Chapter, E.D.A. in Golden; promotional booklet "Golden, Colorado..the perfection location for you!"; community organization booklets including the Lions Club, the Progressive Club, the Golden Fortnightly Club, the Golden Gardeners, Chapter O (P.E.O.), and the First Presbyterian Church Directory.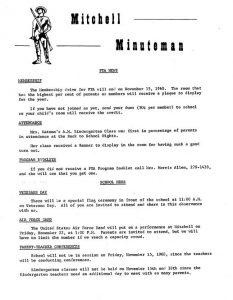 Foldered items: several handwritten letters composed by Mr. Cornish's 5th grade class at Mitchell Elementary School to the 5th graders of 2018; 3 hand-drawn pictures of what students think the world will look like in 2018; a sheet with PTA and school news from Mitchell Elementary school "Mitchell Minuteman"; a loose leaf copy of Mitchell Elementary School's Rules and Policies.
Foldered items: a folded copy of the Golden Transcript for May 12, 1968 with a cover story about the opening of the Foothills Art Center in the old Presbyterian Church; a list of the Board of Directors and Executive Committee of the Foothills Art Center; a membership brochure and calendar of events at the Foothills Art Center; and a copy of the Foothills Art Center's first newsletter, The Foothills Flyer, Vol. 1 No. 1.
Foldered items: 2 brochures from the 16th Season of the Golden Symphony Orchestra; The Golden Thespians Yearbook 1968-1969 with a list of their membership; a program for the "Summer Festival Orchestra", T. Gordon Parks, Director.
Miscellany
Newspapers: Colorado Transcript, 1/16/1969; Denver Post, 12/23/1968 and 12/27/1968, focusing on the Apollo space mission.
Golden Chamber of Commerce Bulletin from September 1968
Colorado School of Mines General Catalog 1968-1969; A copy of the constitution of the Colorado School of Mines Dames Club (1967 Revision) and a copy of the CSM Dames Club Directory 1968-1969
Golden High School Yearbook 1968-1969
A large yellow envelope containing a Golden Jr. High handbook and a piece of black construction paper with a color photograph of Mitchell Elementary School taped on it with a note from Principal Loyd R. Eskildson to the students of 2018.
Items currently on display
Items on first of two tables in History Lab: membership list of Taylor-Miller Post No. 21, American Legion; Fall & Winter Schedule, Golden Recreational Department; black and white photos of the 1968 Time Capsule ceremonies; panoramic photo of Golden in 1968; list & photos of Golden City Council; bulletin of the Golden Kiwanis; Coors advertisement; a copy of the Denver Post, Nov. 5, 1968, Nixon Wins Presidency; a 1968 election ballot; a Golden Chamber of Commerce monthly bulletin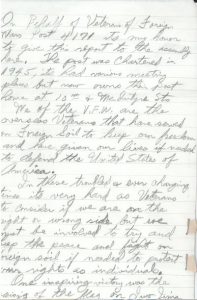 Items on display on second of two tables in History Lab: student letters and drawings from Mitchell Elementary School; handwritten letter from Arthur W. Meinecke, Post Dist. 10 Commander, Veterans of Foreign Wars; a black and white photo of the Golden Junior High Ki Cu Ki Aya Campfire Girls, with a notecard including names of girls in photo; Booklets including the Business & Professional Women's Club, Golden Symphony Orchestra, Mother Cabrini Shrine, Foothills Art Center, The House of Carving, and the Daughters of the American Revolution; also a program from the Golden Thespians play "Mary, Mary" and a Railroad Museum newsletter "Iron Horse News" from October 1968; Coors paper placement with a map of Colorado; a copy of the Colorado Transcript featuring photos of Golden Junior High School.
On display in the standalone case are the actual stainless steel time capsule and the brass plaque that marked the capsule's location. Also included is a program from the Liberty Bell's 50th Anniversary Celebration on 11/11/1968; a folded copy of the Golden Liberty Bell story; and a tag "Project Time Bomb" supervised by Jerry Morgan. Hanging on the wall are 3 scrolls: a Proclamation with signature of the residents of Golden; a scroll with the signatures of Grades 7, 8, and 9 from Golden Junior High School, and a scroll with the signatures of the students of Mitchell Elementary School.
–Mark Dodge, Curator