Staff
After an 11-year walkabout, Nathan returned to his native Colorado in 2010 to serve as director at Golden History Museums. He holds an MA in Museum Studies from John F. Kennedy University and a BA in American History from Colorado State University. Previously, Nathan served as Director of Exhibits and Programs at the McCormick Freedom Museum in Chicago and as Curator of Collections and Programs at the Swope Art Museum in Terre Haute, Indiana.
Shelly Bleckley | Visitor Services Coordinator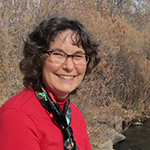 Shelly joined the GHM team in 2014 to coordinate volunteers and focus on customer service for the museums, shops and facilities. A "near-native" of Denver, Shelly spent years working as an actor, stage manager and house manager in theatres and public education programs before moving into nonprofit management, most recently at the Kirkland Museum in Denver. She holds a Bachelor of Fine Arts from the College of Santa Fe and a Master of Nonprofit Management from Regis University.
Mark came on board in 2004, developing exhibits and interpretation, overseeing the facilities for the Astor House Museum and Clear Creek History Park. Today he curates the City's collection of artifacts and photos and manages the dynamic exhibit program at the Golden History Center. A native of Michigan, Mark relocated to Colorado in 1998 to earn his MA in Museum Anthropology at DU. He honed his museum skills by gaining front-line experience at the Denver Art Museum, conducting exhibit evaluation at the Denver Museum of Nature and Science, and developing and designing numerous exhibits for the Fort Collins Museum. In Golden, Mark enjoys conducting grassroots historical research: mining and preserving the city's history through the stories and artifacts shared by people in the community.
Katie March | Interpretation Coordinator
Katie joined the GHM team in 2012 to enhance and coordinate interpretation and education for visitors. Katie has previously worked in the education departments at the Smithsonian National Museum of American History, Colonial Williamsburg, and the History Colorado Center. Through her internships, fellowships, and positions, she has gained a great love for museum education and interacting with the public and volunteers. She has a MA from Colorado State University in History and Museum Studies and a BA from the University of Northern Colorado in History.
Doug Skiba | Development and Communications Coordinator
Doug began working for GHM in 2009 and coordinates social media, marketing, publications, membership and development. Previously, he managed fundraising for the Colorado Mountain Club and was the Assistant Editor of their Trail & Timberline magazine. He also participated in the culminating years of a decade-long effort to create Golden's American Mountaineering Museum. Doug's history roots began with a late '90s project to secure an endangered Lewis and Clark campsite, resulting in a new 15-acre Montana state park. An avid outdoorsman, Doug has also worked as a rock climbing guide in Colorado and as the Assistant Manager of the Yosemite Mountaineering School. He received his Bachelor of Science in Natural Resource Management, Environmental Education and Interpretation, from the University of Wisconsin-Stevens Point in 1994.
Part-time staff
Alicia Agos | Education Assistant
Kayla Gau | Curatorial Assistant
Megan Murphy | Education Assistant