Hands-on History Summer Camp
Summer Camp at GHM&P
Overview
Summer Camp at Golden History Museum & Park is a day camp for kids aged 6–12. Tucked against the foothills, just seconds from downtown Golden, camp is offered for eight weeks using a flexible half-day format, operating Monday through Friday. Most families create full-day schedules by selecting both a morning and afternoon theme. Full-day schedules operate from 9 a.m. – 4 p.m. Extended care (early and/or late) options are also available. The very popular Silent Stars theme is only offered as a full day.
Summer Camp 2024
Registration opens to Museum members on Tuesday, January 9, 2024, via email.
Registration will open to the public (via this webpage) on January 23, 2024.
2023 Summer Camp sold out by February 2023, with many options filling within the members-only registration period. We recommend becoming a member and registering early for best options.
Prices, themes, policies, and parent packet for 2024 will be updated below in November.
2023 Summer Camp Information*
*Please note: all the information below relates to 2023 Summer Camp and is subject to change for 2024.
Pricing (per week)
*Member prices require a current Household membership ($75) or higher.
GHM&P utilizes ACTIVE Class & Camp Manager software for summer registration. ACTIVE Refund is an optional insurance program offered by ACTIVE and not the Golden History Museum & Park. We are not able to remove ACTIVE Refund from purchases. Customers would have to contact Support@Active.com for assistance with removing this if it is accidentally purchased.
Camp Waitlists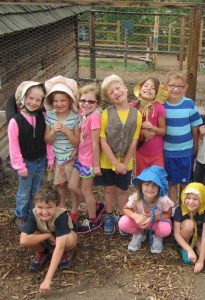 Once a camp has reached its capacity, parents will still have the option to register their child for the waitlist. There is no fee for remaining on the waitlist. We evaluate our waitlists once our scholarship applications have been awarded and confirmed (late February). At that time, we will determine if we can add any additional capacity to camp. After that point, any movement on the waitlist will be due to cancellations.
Parent Packet
Please review our 2023 Summer Camp Parent Packet in advance of registering for camp. It includes helpful information as you plan your summer. Families will receive an updated parent packet in May before the camp season starts.
Camp Schedule and Themes
We will be returning to a half-day camp structure for 2023. You will still be able to select a morning and afternoon camp theme to create a full-day schedule.
Silent Stars is the only full-day camp theme, which runs from 9 a.m. – 4 p.m. All other camps are either 9 a.m. – 12 p.m. or 1 p.m. – 4 p.m. with a supervised lunch break between sessions. Remember to book a morning & afternoon program when registering if you need full day care.
Read the complete theme descriptions here.
Location
The primary drop-off and pick-up location for summer camp is the Golden History Museum (923 10th St., Golden, CO 80401).
Most activities will take place at the Golden History Park (1020 11th St., Golden, CO 80401) across the creek utilizing our historic structures.
Daily Schedule and Drop-off Times
Morning drop-off: 8:45 a.m. – 9 a.m.
(Campers leave the museum promptly at 9 a.m. to go to the History Park.)
Lunch break 12 p.m. – 1 p.m.
(All campers will each lunch together at the same time and then play a group game, supervised by camp staff.)
Pick-up for AM-only campers: 12 p.m. – 12:15 p.m.
Drop-off for PM-only campers: 12:45 p.m. – 1 p.m.
Evening pick-up: 4 p.m. – 4:15 pm
Extended Care Options
Early Drop-off (8 a.m. – 8:45 a.m.) $35/ week or $10/ day
Extended Pick-up (4:15 p.m.– 5 p.m.) $35/ week or $10/ day
Both (8 a.m.– 8:45 a.m. & 4:15 p.m.– 5:00 p.m.) $55/ week
Supervision and Ratios
Campers will be supervised at all times by museum staff. There is an average ratio of one teacher for every 12 campers.
Refund/Cancellation Policy
All cancellation requests received before 5 p.m. on Tuesday, May 2, 2023, will receive a full refund minus a $50 processing fee.
A 50% refund will be given for cancellation requests made between Wednesday, May 3, 2023, and two weeks prior to the start of a registered session.
No refund will be given for cancellation requests made within the two weeks prior to the start of a registered session.
If for any reason Golden History Museum & Park cancels a camp session, campers will receive a full refund or the opportunity to transfer to another session if space is available.
Member Discounts
To receive the member price you must have a current Household level (or higher) membership. If you're not sure about your membership status please call 303-278-3557.
Scholarships
GHM&P offers a number of merit-based scholarships for children with a demonstrated interest in history. These include the Gregory Family Scholarship and Friends of Golden History Museum Scholarship. Scholarship applications open annually in January and close in February.  We hold a certain number of scholarship spots in each camp session to accommodate applications even once a session shows as full online.
Youth Volunteers
Golden History Museum & Park accepts a limited number of Volunteer Junior Summer Camp Aides each summer. Camp Aides assist and lead a variety of activities under the direction of camp staff. Volunteers must be at least 13 years old and make a minimum commitment of two weeks of camp, which runs Monday through Friday from June 5 – August 4, 2023 (camp is on break from July 3-7, 2023). Half-day or full-day camp schedules are available. Full-day History Camp Aide hours are typically 8:30 am – 4:30 pm, Monday – Friday. Interested volunteers must complete an online application, interview, and attend a camp volunteer training before their first day.
Frequently Asked Questions
Where do I drop off and pick-up my children?
All drop-off and pick-up happen at the Golden History Museum at 923 10th St, Golden, CO 80401. This provides a clear meeting location with close parking. Most activities will take place across the creek at the History Park.
What if I need to drop off my child late or pick them up early?
Please make sure that you talk to the camp administrator in advance if you need a different drop-off or pick-up time. The museum is not always open to the public during camp hours, so please let us know in advance so that we can meet you.
What does my child need to bring to camp?
We ask that all campers bring a water bottle, lunch, two snacks, and their own sunscreen in their own backpack to camp every day. A hat and sun shirt are also great. Please do not allow children to bring personal toys to camp.
What are the hours of camp?
Camp sessions are from 9 a.m. – 12 p.m. or 1 p.m. – 4 p.m. with a supervised lunch break from 12 p.m. -1 p.m. Students can arrive as early at 8:45 a.m. for morning drop-off and stay as late as 4:15  p.m. for afternoon pick-up. If you need an earlier drop-off time or a later pick-up time, considering signing up for one of our extended care options.
What kind of communication can I expect during camp?
Parent Orientation: We host a virtual Parent Orientation each May to give parents all the information they need for camp. This presentation is posted to our YouTube page after the presentation.
Thursdays: Weekly camp email for the upcoming week. This will have any updates and need to know information so that your child has a successful week at camp.
Wednesday: On Silent Stars weeks, camp families will receive an invitation to our Silent Stars premiere (scheduled for Fridays at 3 p.m.; space is limited; immediate family only, please.) Silent Star movies will be uploaded to our YouTube channel within a week of camp.
Friday: Thank you and survey. We always want your feedback, and these surveys help us make decisions for the next year of camp.
My child participated in one of your camp themes last year. Will there be new activities this year?
Our curriculum generally repeats from year to year, so if your child attended Pioneer Kids last year, they will experience many of the same activities if they attend again. We are always trying to improve curriculum, but we have found that repeat campers often look forward to their favorite activities.
Frontier Explorers: If your child attended our full-day Frontier Explorers camp in 2022, that theme has been broken down into two half-day segments for 2023, but we'll still have favorite activities such as ice cream in a bag and making candles.
History Mystery: While many of our activities are the same for our very popular History Mystery theme, there is always a new suspect!
How do you handle allergies?
We are a nut-free camp and ask that all of our campers bring non-nut snacks and lunches to camp to help protect our campers and staff that have allergies. We do a number of food activities in each of our camps. A food-ingredient list is included in our Parent Packet when registration opens each January, and an updated version is included in our weekly welcome letter to campers. Please make sure that staff know of any allergies your child may have. There are often simple substitutions that we can make so that your child can still participate.
Why is your camp so expensive?
We pride ourselves on delivering a high-quality experience for our campers. Our activities take place within our historic structures, and we use high quality supplies and ingredients. We also pride ourselves in hiring high-quality educators and are committed to paying them a living wage. Consider becoming a member to take advantage of member discounts and exclusive registration windows or apply for one of our merit-based scholarships.
What happened to Early Bird pricing?
We are using a new pricing structure this year to provide a simpler set of registration dates. There are now just two dates to remember: members-only registration and general registration.
Registration was easy – I like the new system! (Especially the auto-populate feature for the second child I was enrolling – really nice not to have to type all that info in again.)
Tricia H.
The online registration process was GREAT this year. I also really like the check-in process on the iPads and having the kids check-in and out at the history museum. Really well-organized and super easy for parents! Thank you!
I'm so impressed with the amount of activities the kids do while at camp. All of it is relevant and teaches them about history. This is such a great camp. They love it, I love it, they'll definitely be back 🙂
So much insight about the past and what life was like back then. She absolutely loved camp and said it was her favorite she's ever done.
He loved all the activities and overall said this was his favorite camp of the summer.
They had a blast and enjoyed working with their hands. They got a better sense of how we lived before electricity. Also, they made friends – such a friendly staff and they promoted kids being kind to each other, too.
They benefited from social interactions with new friends and learned about various trades and life in other times. They also benefited from excellent, caring support of volunteers/staff.
My child especially loved silent Stars and felt so proud of their finished product and how involved they got to be.