History Museum
History Museum
open and free

Tuesday, Wednesday, Thursday, 10 – 4; Friday & Saturday, 9 – 5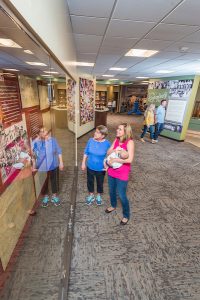 The History Museum is a warm, welcoming, and vibrant public space for uncovering and sharing our past. The exhibits at Golden History Museum include versatile programming spaces, a hands-on gallery for families with young children, and dynamic displays that highlight the City's collection of 15,000 historic objects. Discover your own favorite artifacts in-person and then continue your learning journey at home or in your local coffee shop using our extensive online collection.
Combine your museum visit with a variety of other entertaining pastimes in downtown Golden. Enjoy our world-class outdoor recreation, cultural attractions, local charm, and the Coors Brewery, the largest single-site brewery in the world, located walking distance from the museum. Learn more at VisitGolden.com.
Hours and Admission
Open Tuesday, Wednesday, Thursday, 10 – 4; Friday & Saturday, 9 – 5. Admission is free, courtesy of generous donors just like you. Help contribute here.
Join the Museum Membership and help preserve local history.
Exhibits
The Current Exhibits page has a preview of what you'll see on your visit. The four long-term galleries, Epic Events, Legendary People, Touch Gallery, and The Salon feature exciting artifacts about the history of the mining-supply town.
Featured in The Salon
Golden History Museum & Park has a rich collection of historic and contemporary artwork by artists who lived in, worked in, or visited the area. The Salon—so named for its ceiling-to-floor salon-style installation of work—continuously exhibits pieces from the permanent collection as well as changing exhibits by local artists who draw their inspiration from the local surroundings.
Rick Souders: The Art of Edible Imagery
June 9 – October 2, 2022
Golden-based food photographer Rick Souders creates sumptuous, mouthwatering imagery for food and beverage advertising campaigns worldwide. Rick's unique creative and business background has allowed him to work at a Fortune 250 Beverage Company, then on to one of the largest advertising agencies in the US, to owning one of America's top food and beverage photography studios.
Rick grew up on the rural high plains near the Pawnee National Grasslands. His passion for food and agriculture runs deep and he credits his upbringing for playing a formative role in his development as a food and beverage photographer. Said Souders of his art, "Working with light, texture, color, form and shape is so amazing to me. Then add food and beverage and you simply can't go wrong. My food art photography combines my interest in color theory and color psychology.  The use of color, light and texture is both harmonious and jolting.  The food is graphic, textural and tonal and creates its own story.   The crisp colors, amazing textural depth and quality of light is stunning.  I create images to satisfy my creative hunger."
Special closures and holidays
Sundays, Mondays, Easter, Thanksgiving Eve, Thanksgiving, Christmas Eve, Christmas, New Year's Eve, and New Year's Day. Please call 303-278-3557 for details. Check out our upcoming events.
Reviews
"It doesn't take much time or money to see this at your own pace and you get a souvenir included in the price that you get to watch be made. It was interesting to learn all the things that were invented in Golden. Good spot to stop by if you are new to Golden or thinking of moving there – you get a sense of the people through the bios of the real people in the community." — TripAdvisor review
Online collection
If everything on display is not enough to keep you busy, we invite you to access our online collection of thousands of items at a dedicated public workstation or on your own device. Don't worry if computers aren't part of your first language: we'll give you an orientation on request during your visit. 
About the Museum
GHM is new and old at the same time. The founding goes back to 1938, when citizens began collecting, exhibiting, and preserving Golden artifacts. Jefferson County Commissioners, with the aid of the Works Progress Administration, were instrumental in creating this collection as the basis of a museum that has had several homes over the years. The museum hosted a grand opening on January 14, 1939, at North School on Washington Avenue, the first official home. Since 1996 it has been housed at 923 10th Street. Read the complete history of the organization here.
Today's museum is the starting place for exploring Golden's unique history through exhibits, lectures, programs, and events. As is true with the best museums, it continues to evolve and mature.
We are constantly on the lookout for Golden stories and all variety of newfound Golden-related artifacts, and we also provide care for the 16,000+ items in our collection.
Drawing on the work of those who have come before us and those who share their passion and perspective for local history is what keeps us motivated. We couldn't do it without you.
We are thankful for all of the community support we receive, and we are excited about the increased value that the History Museum is adding to the Golden community. Come grow with us!