History Museum
Golden History Museum Open Daily (except Tuesday)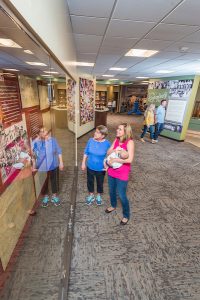 Golden History Museum has fully transformed into a warm, welcoming, and vibrant public space for uncovering and sharing our past. The renovation includes new programming spaces, a research center, a hands-on gallery for families with young children, and dynamic new exhibits that highlight the City's collection of historic objects. With the vision of "always something new to discover," the renovated Golden History Museum brings the behind-the-scenes practices of object discovery and preservation to the front of the house. New: Look behind the scenes at the completed renovation on the GHM&P blog.
Hours
Open daily, 10 am – 4:30 pm, except Tuesday
Admission
Admission is free, courtesy of our generous donors. Help contribute here.
Join the Museum Membership and support the preservation of Golden's history.
Exhibits
The Current Exhibits page has a preview of what you'll see on your visit.
Recurring Special Programs
Did you know that every Sunday in the History Lab you can drop in to witness collection processing in action? Curatorial Assistant Vanya Scott will be in the gallery from 1-3 pm cataloging new donations or working on a collection inventory initiative. Stop by and say hi.
Closures
Tuesdays, Easter, Thanksgiving Eve, Thanksgiving, Christmas Eve, Christmas, New Year's Eve, and New Year's Day. Please call 303-278-3557 for details. Check out our upcoming events.
Reviews
"It doesn't take much time or money to see this at your own pace and you get a souvenir included in the price that you get to watch be made. It was interesting to learn all the things that were invented in Golden. Good spot to stop by if you are new to Golden or thinking of moving there – you get a sense of the people through the bios of the real people in the community." — TripAdvisor review
Brief History
Golden History Museum is new and old at the same time. The founding goes back to 1938, when citizens began collecting, exhibiting, and preserving Golden artifacts. Jefferson County Commissioners, with the aid of the Works Progress Administration, were instrumental in creating this collection as the basis of a museum that has had several homes over the years. The museum hosted a grand opening on January 14, 1939 at North School on Washington Avenue, the first official home. Since 1996 it has been housed at 923 10th Street.
Today's Museum is the starting place for exploring Golden's unique history through exhibits, lectures, programs, and events. As is true with the best museums, it continues to evolve and mature.
We are constantly on the lookout for Golden stories and all variety of newfound Golden-related artifacts, and we also provide care for the 16,000+ items in our collection.
Drawing on the work of those who have come before us and those who share their passion and perspective for local history is what keeps us motivated. We couldn't do it without you.
We are thankful for all of the community support we receive, and we are excited about the increased value that the History Museum is adding to the Golden community. Come grow with us!