History Museum
History Museum
open and free

Tuesday – Saturday, 10 a.m. – 4:30 p.m.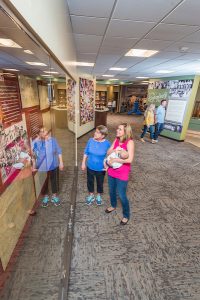 The History Museum is a warm, welcoming, and vibrant public space for uncovering and sharing our past. The exhibits at Golden History Museum include versatile programming spaces, a hands-on gallery for families with young children, and dynamic displays that highlight the City's collection of 15,000 historic objects. Discover your own favorite artifacts in-person and then continue your learning journey at home or in your local coffee shop using our extensive online collection.
Combine your museum visit with a variety of other entertaining pastimes in downtown Golden. Enjoy our world-class outdoor recreation, cultural attractions, local charm, and the Coors Brewery, the largest single-site brewery in the world, located walking distance from the museum. Learn more at VisitGolden.com.
Hours and Admission
Open Tuesday – Saturday, 10 a.m. – 4:30 p.m.. Admission is free, courtesy of generous donors just like you. Help contribute here.
Join the Museum Membership and help preserve local history.
Exhibits
The Current Exhibits page has a preview of what you'll see on your visit. The four long-term galleries, Epic Events, Legendary People, Touch Gallery, and The Salon feature exciting artifacts about the history of the mining-supply town.
Special closures and holidays
Sundays, Mondays, Easter, Thanksgiving Eve, Thanksgiving, Christmas Eve, Christmas, New Year's Eve, and New Year's Day. Please call 303-278-3557 for details. Check out our upcoming events.
Online collection
If everything on display is not enough to keep you busy, we invite you to access our online collection of thousands of items at a dedicated public workstation or on your own device. Don't worry if computers aren't part of your first language: we'll give you an orientation on request during your visit.
About the Museum
GHM is new and old at the same time. The founding goes back to 1938, when citizens began collecting, exhibiting, and preserving Golden artifacts. Jefferson County Commissioners, with the aid of the Works Progress Administration, were instrumental in creating this collection as the basis of a museum that has had several homes over the years. The museum hosted a grand opening on January 14, 1939, at North School on Washington Avenue, the first official home. Since 1996 it has been housed at 923 10th Street. Read the complete history of the organization here.
Today's museum is the starting place for exploring Golden's unique history through exhibits, lectures, programs, and events. As is true with the best museums, it continues to evolve and mature.
We are constantly on the lookout for Golden stories and all variety of newfound Golden-related artifacts, and we also provide care for the 15,000+ items in our collection.
Drawing on the work of those who have come before us and those who share their passion and perspective for local history is what keeps us motivated. We couldn't do it without you.
We are thankful for all of the community support we receive, and we are excited about the increased value that the History Museum is adding to the Golden community. Come grow with us!
Free attraction with good family activities. My 9-year-old enjoyed earning a prize after completing a scavenger hunt. Convenient location along the river walk!
LuRoss99
Wonderful museum that used to be a library; it's been beautifully renovated and while it's not large, there is plenty to see during your visit. Family friendly.
Nicole R.
Stopped in to visit with a 4 year old. The staff was SO kind and enthusiastic– really went above and beyond to engage with our kiddo and guide us to age appropriate activities. This is a very cool little museum where the staff are clearly very passionate.
Allison Apaza
Very cool little local museum with friendly and knowledgeable staff. We went in there to enjoy some AC during our one day exploration of the town after seeing that admission is free. We left having learned a bit of history about this cool town and with Jolly Rancher candies in hand! If you are looking for a simple and free indoor activity, I would check this museum out!
Ava Schwarz