Donate Artifacts
Golden-related artifact for donation
Is a Golden-related artifact collecting dust in your attic or garage? We are always looking to collect Golden memorabilia and would love to discuss all possible artifact donations. Diversifying the collection is a priority as the museum seeks to record and share minority viewpoints and untold stories. New energies are also going into collecting from outlying areas of Golden City limits like Pleasant View and the west Colfax corridor. 
If you have an object, photograph, or document that you would like to be considered for donation, we want to hear from you.
How do I donate?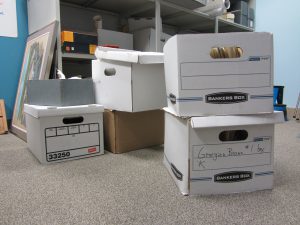 Please call first to discuss the possible donation. We will help you make an appointment to bring the item to the Golden History Museum. Please call Curator Mark Dodge at 303-277-8714 to discuss or schedule a donation. You may also reach Mark by using our contact page.
We consider items that have significance to Golden, new and old. All donations become property of the City of Golden without exception. Donations with conditions will not be accepted.

Frequently asked questions on Golden-related artifacts
I have a Golden-related artifact that might be valuable. Does the Museum offer artifact appraisals?
Unfortunately, the Museum does not appraise artifacts. We suggest finding a reputable appraiser through the American Society of Appraisers.
What does the Museum collect?
One of the Museum's primary goals is to collect artifacts that document Golden history. They include objects which were actually made or used in Golden and have a clear and specific association with some significant aspect of Golden history. Learn more about what we preserve in this Scope of Collection (PDF).