Walking Tour
Golden, Colorado, Historical Points Walking Tour
1.5 miles; approximately 35-50 minutes
Wind your way through Golden's history by checking out our 16-point walking tour, starting at the Golden Visitors Center, at 1010 Washington Ave, Golden, CO 80401. Navigate using your smartphone and the customized Google map below.
Click the photographs to connect with the Museum's Online Collection and learn more about selected stops through images, artifacts, and more.
Looking for the detailed 24-page Tour of Historic Golden booklet published in 2011? Download the PDF here.
1. Boston Company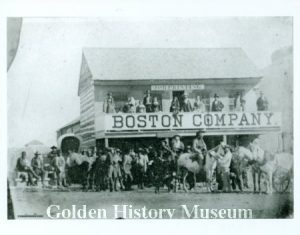 Lured not by the riches to be made from mining the hills, but from "mining the miners," the Boston Company set up the first mercantile in Golden in 1859. Along with selling every manner of supply an eager prospector might require, the second floor of the building was home to the Western Mountaineer, founded as Jefferson County's first newspaper by publisher George West.
2. Goosetown
Goosetown is Golden's historic German district, having come into its own during the 1870s as immigrant railroad workers settled around the main works of the Colorado Central Railroad on its north side. The area is roughly bounded by Ford Street, Clear Creek, the eastern city limits, and Highway 58.
The origin of the name "Goosetown" is thought to have been inspired either by the nearby large flock of geese Adolph Coors kept, or the cackling of the female inhabitants of the locality. Goosetown was home to a rowdy set of blue-collar German families, as well as a scattering of other immigrants including persons from Sweden, Poland and England. Goosetown, being near the freight depot, had a number of hotels, including the Burgess House, Omaha House, Pennsylvania House, and the German House which had earlier served as Germania Hall.
At the corner of 10th and Vasquez Streets once stood Goosetown Tavern, Colorado's oldest continuously operating bar. In 1998, the bar was demolished, but not before some of its interior was saved by John Hickenlooper, Colorado's brewer-turned-Governor, who installed them in a new Goosetown Tavern in the Congress Park district of Denver.
3. Burgess House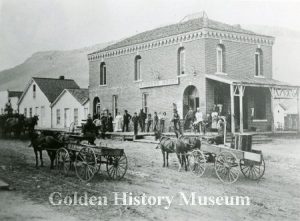 Constructed in 1866 by German immigrant miner, Thomas Burgess, the Burgess House is Golden's oldest remaining hotel and rooming house. Originally built to include a first floor public room and a basement saloon, Burgess House became a hotel in 1872 with the arrival of the railroad.
4. Vanover Hanging
Golden—and much of Colorado—in the 1850s and 60s was a booming and frequently lawless place. In the absence of an established police, local townspeople occasionally resorted to frontier vigilantism to settle disputes and serve justice.
In 1859, a young tavern owner named Edgar Vanover, who had earned a reputation as an ill-tempered drunk, began making personal threats to a number of townspeople. According to one newspaper account, an inebriated Vanover began shooting wildly, pointing his weapon at people, and making himself a general menace. A mob of angered citizens chased after Vanover, who fled to a nearby cabin. The mob openly debated how to handle the threatening young man and debated whether to deport him from town or hang him. Concerned that an evicted Vanover would only return for retribution, the mob took the extralegal option of condemning the man to death without so much as an indictment or trial. Vanover was brought to a beef gallows that stood at the southeast corner of Ford Street and Clear Creek and was summarily hanged.
In 1990, the City of Golden dedicated a park named for the subject of this gruesome act.
5. Coors Brewery
In 1873, German immigrants Jacob Schueler and Adolph Coors opened a small brewery at the base of South Table Mountain in Golden. They began producing beer following a Czech Pilsner recipe which Coors had obtained through his experiences as a brewer. Their enterprise, which began in an abandoned tannery, has grown to become the largest single-site brewery on the planet.
Coors and Golden have been synonymous for more than a century. The iconic Castle Rock formation atop South Table Mountain was used on the company logo from the earliest times. The company was one of only a handful of breweries nationally to outlast Prohibition and did so by turning to the production of malted milk, which Coors supplied to the Mars Candy Company.
Before it reached the scale it is today, the Coors Brewery was a social space for Goldenites. A lovely park and reservoir on the Ford Street side was a favorite spot for local families to stroll, picnic, and rowboat.
6. Greeley's Crossing
Horace Greeley, the famed author and publisher of the New York Tribune who famously popularized the saying "Go West, young man, and grow up with the country" himself visited Colorado in 1859. Intent on thoroughly exploring the Pikes Peak gold region, Greeley came to Golden to see the supply town that sprang up along Clear Creek.
A toll bridge crossing the stream was still under construction, so Greeley decided to ford the creek, swollen with spring runoff. Capt. Edward Berthoud, a founder of Golden and Greeley's companion during his exploration, wrote of the crossing:
"Horace Greeley, mounted on a mule, dressed in a rough garb of a traveler, with his old white hat firmly pressed on his head, rode up to the bank of Clear Creek, where now stands Capt. Berthoud's barn. In view of this, he had sallied out; and now before him roared a vicious, impetuous mountain torrent, that must be passed. Fearless he plunged in, mule and all, and right manfully he did buffet the angry waves; but the waves prevailed; mule, rider and old white hat stood not on the order of their going, but danced merrily down to swell the turbid Platte. Horror struck at the accident, and the whole population rode or rant to the rescue. The mule first landed, and Charity or the Good Samaritan, in the shape of a sturdy miner with a boat-hook soon rescued the now half-drowned author, and by the seat of his unmentionables, dragged him safely to shore."
7. Welcome Arch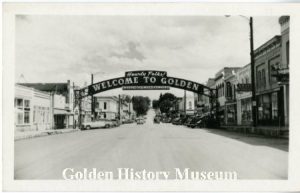 Golden businessman, Lu Holland, who owned and operated his eponymous Holland House (today's Table Mountain Inn) felt strongly that Golden needed an iconic sign to promote the city and attract business. Duly impressed by an arch near Denver's Union Station, Holland began promoting the idea of building a similar arch in downtown Golden. He actively cajoled the Chamber of Commerce to support the idea and put his money where his mouth was by advancing $1000 of his own to start the project.
In 1948, Holland asked his friend, Paul Reeves—a Coors ad man who had recently designed the company's first aluminum can label in 1948—to come up with a concept for the arch. Reeves designed a modern, steel framework structure that arced 58 feet over Washington Avenue, lit with neon, and emblazoned with the words "Howdy Folks! Welcome to Golden." At a cost of $7,500 the arch was dedicated on March 24, 1949.
During a renovation in 1979, the last word in the tagline "Where the West Remains" was changed to "Lives," feeling that the former sounded unpleasantly similar to mortal remains. Now a local landmark, the Welcome Arch is arguably the most photographed spot in Golden.
8. Jolly Rancher
Dorothy and Bill Harmsen opened their first ice cream store at 1113 Washington Avenue in June 1949. Called Jolly Rancher, the name was intended to evoke a fun, Western hospitality. Jolly Rancher ice cream and confections were a terrific hit, but sales slumped during the cold winter months. So, the Harmsens turned their attention to making hard candies in fruit flavors. One of their "hottest" lines were the ever popular cinnamon Fire Stix.
Jolly Rancher expanded rapidly and opened franchised stores in multiple locations, including Nebraska and Wyoming. In 1951, candy production was moved to the Sugar Bar Ranch factory in Wheat Ridge. That plant, at 5060 Ward Road, closed for good in 2002 and was finally demolished in 2005 to make way for new residential development.
The parent company changed several times. In 1966, Jolly Rancher merged with Beatrice Foods Company of Chicago. Leaf Brands purchased Beatrice Foods in 1983, which was subsequently bought by Hershey Foods Corporation on Dec. 30, 1996. As of 2022, Jolly Rancher is manufactured in Quebec, Canada, and remains one of America's most iconic candies.
9. Loveland Cottage
William Loveland, often called the "Prince of Pioneers" in his day, was one of the most important settlers of Golden and the State of Colorado. Loveland arrived in Golden in 1859 during the Pikes Peak gold rush. When the Colorado Territory was established in 1861, Loveland was one of the biggest promoters of making Golden its capital, which happened the following year.
Loveland was a forward-thinking entrepreneur and civic leader. He was a founder of the Colorado Central Railroad, trustee of the Colorado School of Mines, mayor of Golden, and Lieutenant Governor of Colorado, among many other notable achievements.
Constructed in 1859, Loveland's Cottage that stands at 717 12th Street is Golden's oldest building.
10. Old Capitol
As part of William Loveland's plan to lure the territorial capital to Golden, he offered the Legislature free use of his property. In 1864, the Legislature met in Loveland's original wooden mercantile on the east side of Washington Avenue. Upon completion of improvements to his new brick storefront at 1122 Washington Avenue, the Legislature moved to the second floor of Loveland's Mercantile in 1866.
The battle to choose a permanent home for the capital pitted wealthy Denver businessmen who wanted a convenient, civilized seat of power in Denver against rural agrarian and mining communities opposed to handing more power to the big city. On December 9, 1867, the legislature met in Loveland's building and heatedly debated where to place the capital. A vote was taken and the decision to relocate the capital to Denver was decided by a single elector. Goldenites were aghast and alleged bribes bought the deciding vote.
11. Foss Drug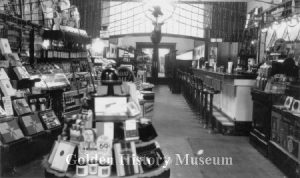 Opened in 1913 by Henry and Dorothy Foss, Foss Drug was a Golden institution for nearly a century. What began as a simple drug and sundry store expanded over the decades and overtook the buildings on both sides. Foss had the State's first liquor license, which it obtained before prohibition, and could issue prescribed alcohol. After prohibition, the liquor store became a major portion of the company's business. In the 1970s, Foss introduced its own house bourbon label called Ski Country. The liquor was bottled in collectable decorative decanters designed by Barbara Foss. The designs included everything from skiers to ruffed grouse to the famous Colorado School of Mines mascot. See dozens of examples on the GHM&P Online Collection. During its heyday, Foss Drugs was a social hub. It featured a restaurant and soda fountain that were popular with residents and Mines students alike. Foss Drug closed its doors in 2007.
12. Armory
Built in 1913, The Armory Building is one of the most identifiable buildings in Golden. Constructed entirely from river rock drawn from Clear Creek, the Armory is believed to be the largest cobblestone building west of the Mississippi. The Armory was designed by Golden architect James Gow and was built to house Company A Engineers of the Colorado National Guard and the Colorado School of Mines ROTC Unit. During the 1917/1918 Spanish Flu Pandemic that swept the country after WWI, the Armory was temporarily converted into an emergency hospital for the Red Cross.
13. Astor House
During the gold and silver rush years, boarding houses like Astor House provided a temporary home for thousands of treasure seekers who flooded Colorado seeking their fortunes. Astor House was built in 1867 from locally quarried sandstone. It was enlarged in 1893 and featured a large dining room, a modern kitchen, some of the first indoor plumbing, and thirteen rooms that housed guests and the landlord. During most of the 20th century, Astor House was home to hundreds of School of Mines students. Having fallen into a state of serious disrepair, it was slated to be demolished in 1970. A group of concerned citizens rallied to preserve the building, and in 1972 was purchased and saved by a public vote.
14. 12th Street Historic District
In contrast to the rowdier immigrant neighborhoods like Goosetown on the north side of Clear Creek, 12th Street on the south side of the creek was Golden's genteel neighborhood. Featuring some of the best examples of Victorian and Italianate architecture in the City, 12th Street was home to some of the City's prominent businessmen, civic leaders, and educators.
The home at 1018 12th Street was built by George West, one of Golden's earliest founders. West was a member of the Boston Company and most notably the publisher of the Colorado Transcript, Colorado's second oldest continuously published newspaper. The brick Italianate house at 920 12th Street was the home of Dr. James Kelly, a physician and territorial legislator. Today, the home is best known as the Golden City Brewery—one of State's first microbreweries founded by Charlie and Janine Sturdavant in 1993.
15. Golden History Park
The History Park is home to many of the original buildings from the historic Pearce Ranch in Golden Gate Canyon (about fifteen miles away as the crow flies). The Pearce and Reynolds Families were Cornish immigrants who settled in the hills west of Golden in the 1870s to mine, ranch and farm.
When a housing development threatened the ranch buildings in the early 1990s, the community rallied to save this piece of Golden's history. Beginning in 1994, the buildings were moved to this piece of land in Golden, log by log, where they were lovingly reconstructed over the course of four years. The parkland was once a neglected salvage yard that was painstakingly cleaned and reclaimed. Today, Golden History Park is one of the most popular and scenic gathering spots in Golden.
16. Golden History Museum
The Golden History Museum is a warm, welcoming, and vibrant public space for uncovering and sharing our past. The exhibits at Golden History Museum include versatile programming spaces, a hands-on gallery for families with young children, and dynamic displays that highlight the City's collection of 15,000 historic objects. Discover your own favorite artifacts in-person and then continue your learning journey at home or in your local coffee shop using our extensive online collection.
Back to the Starting Point
Want to learn more about Golden's rich history? Besides the last stops at Golden History Museum & Park, you can also visit the Colorado Railroad Museum, Buffalo Bill's Grave, or many others. Get more information from Visit Golden.