Volunteer
Are you already a volunteer? Log in to our volunteer database.
Interested in volunteering?
Helping as a volunteer with Golden History Museum & Park is a great way to learn new skills, meet new people, work with the public, and make a difference in our community. Read one of our volunteer profiles. It just might inspire you!
We're recruiting
Visitor Services Volunteer

Come join the best group of volunteers in the west! We are actively recruiting admissions desk volunteers at Golden History Museum for a minimum of one shift per week. After checking guests in at the admissions desk, you may shift your efforts to better align with your interests. Potential duties include serving as a gallery guide, conducting collections research, and interacting with guests. At times, you may simply stay at the front desk to answer general questions. While your time volunteering is essential to providing a friendly and courteous experience for all guests, staff will also need your help for various projects throughout your shift.
All of our volunteers, with the exception of corporate group volunteers and other single-day workers, must complete a City of Golden volunteer application and consent to a background check.
To get started, follow these steps:
Complete the City of Golden Volunteer Application.
Contact our Volunteer Coordinator to schedule your interview.
Pass a background/credit check, conducted and provided by the City of Golden Human Resources Department.
Come in for FREE training and begin volunteering!
Job Description Downloads
---
---
Volunteer Profiles
---
Kasey Snow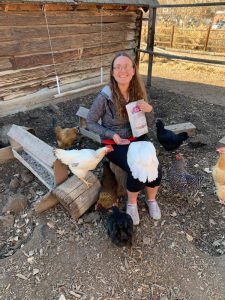 Born in Oklahoma but raised in Fort Worth, Texas, Kasey Snow loves being creative and expressing herself through art. She graduated from the University of North Texas with a Bachelor's in Art Education and served as an elementary school art teacher for nearly five years before moving to Colorado.
Originally moving to Colorado to combine her artistic passion with her love of the mountains, Kasey only planned to spend one year in this beautiful state building up her portfolio to transition from teacher to freelance illustrator. However, after moving here in 2015, Kasey has not left because she loves living in the Golden area.
While living in Golden, Kasey found herself frequently walking past the chicken coop and wanted to get more involved with the feathery creatures actively grabbing her attention. In January 2018, she saw a volunteer recruitment flyer, literally providing her a sign that it was finally time to meet the Golden History Park flock!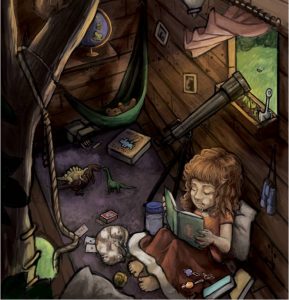 Besides interacting with the resident hens on a regular basis, Kasey's favorite aspect of volunteer chicken caretaking is educating park visitors. She thoroughly enjoys letting kids into the coop to pet and feed the chickens, while also sharing some basic chicken facts or general caretaking knowledge. Kasey attributes this to the "residual teacher genes in me." Perhaps you will run into her on your next visit to the Golden History Park.
Kasey is a loving, enthusiastic, and compassionate volunteer. She loves visiting the flock outside of her regular caretaking duties and is usually the first to undertake a project or research new practices that will benefit the chickens. Golden History Museum & Park feels very fortunate and incredibly thankful to have Kasey on our volunteer chicken team.
If you are interested, please check out Kasey's website. She continues to work as a freelance illustrator and finds inspiration within the chicken flock and Golden area.
---
Pat Donahue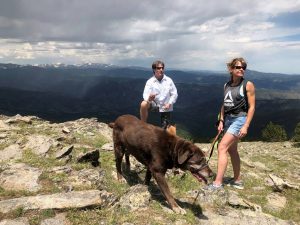 Born and raised in the rubber capital of the world, also known as Akron, Ohio, Pat Donahue knew from an early age that she wanted to help people. To do so, she pursued a career in nursing and graduated from the University of Akron in 1982. After working at the Akron General Hospital for a few years, Pat wanted a change and took a job as a traveling nurse. Upon adventuring throughout the U.S., Pat fell in love with Colorado and decided to settle in the Golden area around 1991. While working as an Intensive Care Unit nurse at Porter Adventist Hospital, Pat met a quiet and confident Cardiac Care Unit nurse, Kevin. Sharing their love of giving back to their community and exploring the great outdoors, Pat and Kevin have been happily married since August 1997.
In 1994, both Pat and Kevin knew that they could do more to help others. Together, they moved to Minnesota so Kevin could pursue training in anesthesiology while Pat decided to switch things up (again) and began attending law school. After graduating with honors from the William Mitchell College of Law in 1997, Pat and Kevin moved back to Colorado and created their forever home.
For several years, Pat worked at a criminal defense and civil litigation law firm as a family law attorney in downtown Denver. Later, Pat opened and runs her own mediation office, PJD Mediation, LLC, and strives to "improve relationships, one mediation at a time."
In her free time, Pat continues her passion for helping others through volunteerism. Along with volunteering at CASA (Court Appointed Special Advocates) in Jefferson and Gilpin Counties mentoring children in foster care, Pat also began giving her time to Golden History Museum & Park as a chicken caretaker and beekeeper since the summer of 2017. When asked about her reasons for volunteering with the Museum, Pat said she "always wanted to learn more about chicken and bee caretaking but really wanted to be more connected with the Golden community." She loves walking the path along Clear Creek with her husband, Kevin, and their two dogs, Aly and Tiberius.
Pat is a huge help to the Museum. In addition to her regular caretaking duties, Pat takes initiative and fixes numerous maintenance issues such as rat and wasp extermination, roost improvements, coop and yard enhancements, and even replaced part of the chicken yard fence with the help of her husband. Additionally, Pat singlehandedly worked to establish the current hives at the Golden History Park and manages the over 150,000 resident bees. Literally, no job is too big or too small for Pat and all of those around her feel her enthusiasm and positivity. Pat continues to be an incredible caretaker to our chickens and bees, as well as an amazing friend to GHM&P staff and her fellow volunteers.
---
Arlene Munyon
Born in her grandmother's house, about halfway between Pine and Conifer, Arlene Munyon is a lifetime resident of Jefferson County and a longtime Goldenite. Her parents, Torrance and Madalyn Corbin, decided to move from their Conifer family ranch, known as Echo Valley Ranch, to Golden in 1945 because there "simply wasn't enough money in ranching" to support their family of eight. As the fifth of six children, Arlene graduated from Golden High School on June 5, 1953. Four days later, on June 9, she began her remarkable career working for the Jefferson County Welfare Department.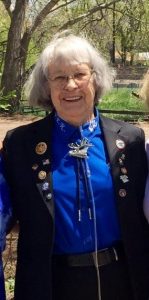 Utilizing skills she acquired in high school such as typing, shorthand, and bookkeeping, Arlene first began in the Welfare Department by taking shorthand notes for the Social Workers who were assisting the people applying for welfare benefits. Over the years, Arlene held numerous positions and finally retired as the Manager of all the Public Welfare programs including Food Stamps, Medicaid, Old Age Pension, Child Support Programs and numerous others. Arlene served the Welfare Department, later known as Social Services and Human Services, for a little over 47 years before retiring on January 15, 2001.
Arlene fondly recalls marrying her high school sweetheart, Jess Munyon, on February 5, 1955 and their nearly 57 years of marriage until Jess' passing on October 6, 2011. Jess and Arlene had four children, Cathy, Bob, Monty, and Pam. Arlene has 12 grandchildren and 17 great-grandchildren.
In January 2019, after reading about the Museum in the Golden Informer, Arlene decided to become a front desk volunteer. She recalls thinking, "this is something I could do, even with my oxygen tank." Her favorite part of volunteering is meeting the public from all parts of the world, while also talking with the staff and meeting other volunteers.
Arlene's knowledge on Golden is an invaluable resource to the museum and we are incredibly thankful to have her as part of our volunteer team.
---
Martha Gould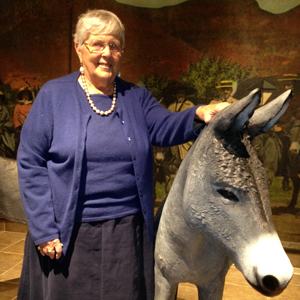 Volunteer extraordinaire Martha Gould was born in 1931 in Claremont, New Hampshire, and studied American history at the University of Michigan before acquiring a master's in library and information science from Simmons College in Boston. Starting as a children's librarian and storyteller on a bookmobile in the Bronx, Martha worked her way up through libraries in Oklahoma, Santa Fe, and Los Angeles until becoming the director of the Washoe County Library in Nevada.
In 1993, Martha was appointed by President Clinton to the National Commission on Libraries and Information Science. She served on NCLIS for 10 years, becoming the commission's chair before retiring in 2003.
Martha received many awards for her work, but the two that mean the most to her are the plaque in Reno's northwest branch library with her photograph and the inscription, "Once upon a time a unique individual transformed our libraries," and a little silver plastic Oscar inscribed, "To the Best Boss Ever" given to her by her staff when she retired.
Martha's husband died in October 2005 and her son and family moved her to Golden in the summer of 2014. You can meet Martha while she's working at the admissions desk in the Golden History Museum on Friday and Saturday afternoons.
---
Dennis Potter
Dennis has been a volunteer since 2008, first helping out in Collections and recently adding the Front Desk at the Golden History Center every Thursday. He started to volunteer because he'd had some contact with curator Mark Dodge, and when the City of Golden took over management of the museums, he felt confident in the museums' future and wanted to contribute.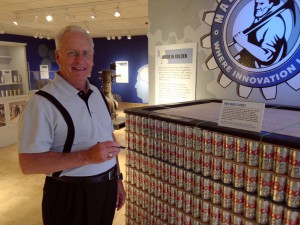 Dennis brings amazing knowledge and love of the Golden community to his job. He began working as a sheriff's deputy for Jefferson County in 1971. Soon after he joined the department, Undersheriff Chuck Morse asked Dennis to take over as the unofficial organizational archivist, and to preserve and document the history of the department. Although Dennis was the first deputy in the department with a four-year college degree, his degree was in English and didn't prepare him for suddenly becoming a historian.
On his own time, Dennis began researching objects and interviewing people. He developed a list of dates and names of past sheriffs and undersheriffs. On his last day with the department, Sheriff Harold Bray asked Dennis to interview him and preserve some of his memories. Dennis put his own money and time into collecting and preserving badges, handcuffs, body chains and photos. And when the time came to find a place for his collection to live he was courted by the University of Wyoming and the National Law Enforcement Museum in Washington, DC. But Dennis felt the collection should stay in Golden, and he has not only donated it to Golden History Museums, but is helping to record and document it.
Dennis retired from the sheriff's department in 2004 with the rank of captain and now teaches part-time at Metro State University. We are proud to have him working with us, and you can drop by the History Museum and meet him on most Saturdays. As Dennis says, "My collection's in good hands and now I'm giving back."