Purchase Photos
All new photography and research requests are temporarily on hold while the museum is closed for remodeling. Please check back in July 2018. Sorry for any inconvenience.
How do I purchase a reprint starting in July 2018?
Step 1.  Click the button below to view the online collection
Search for photographs that tickle your fancy. The collection is always growing, so if you can't find what you're looking for check back often or call and ask. Beware. It can be addictive.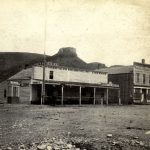 Step 2. Once you find what you want click on it and then click on the Order Image icon and follow the instructions.
Step 3. While you wait to hear from the museum, read over the Photography Collection Use Policy (the legal fine print) using the link below.
Photography Collection Use Policy

Step 4. After you hear from the museum you'll be instructed to complete the Photo Reprint Order Form using the link below.