Golden High School Yearbooks
Golden High School Yearbook Online Archive
The year 2023 marks the 150th anniversary of the founding of Golden High School (GHS). In honor of this momentous occasion, Golden History Museum & Park partnered with GHS and the GHS Alumni Association to collect as many GHS yearbooks as possible to make them accessible to all.
See the collection of yearbooks on issuu.
Help us fill in the yearbook gaps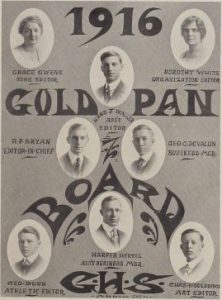 As of April 2023, 89 yearbooks have been digitized. However, we still have some gaps in the collection. The earliest book we have dates to 1916, which is believed to be the first yearbook that GHS ever produced. However, if you believe you have GHS yearbooks that date earlier than 1916, we would be delighted to see them. We are also still missing the following books:
1918-1921
1923-1925
1927-1929
1931-1935
1938
1943
1944
If you have one of the missing yearbooks and are willing to lend it to the Golden History Museum for digitization, please contact our curator, Stephanie Gilmore, at sgilmore@goldenhistory.org. Also keep an eye out for our upcoming exhibit, Old School: Golden High Turns 150, which opens at the Golden History Museum & Park on August 24, 2023.