After School
Survival Club with Hutch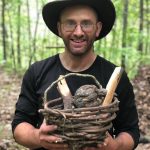 Join us for eight weeks of after school Survival Club with Colorado native and expert survivalist Aaron "Hutch" Hutchings. Each week will feature a unique activity or skill as participants ages 6 to 12 work to earn their Survival Certificate from Golden History Museum & Park. Participants will learn skills such as fire building, cooking, edible plants, and shelter building. Survival Club runs weekly on Tuesday afternoons starting September 13 from 4 – 5:30 p.m. with activities to take place at both Golden History Museum and Golden History Park. Limited to 20 participants.
Club Dates
Club dates include September 13, September 20, September 27, October 4, October 11, October 18, October 25, and November 1.
Pricing
Cost for the eight weeks is: $120 for members*; $145 for non-members
* Member prices require a current Household membership or higher.
Registration Dates
• Registration will open to members on August 1, 2022, at 9 a.m. MST.
• Registration will open to non-members on August 22, 2022.
Registration will take place through Active, the museum's registration software. The link will be published on August 22, 2022, for the general public.
About Hutch
Aaron "Hutch" Hutchings is a Colorado native, veteran, and father of four. He was raised in the Rocky Mountains by a real mountain man and hunting guide he called Grandpa. His love for adventure was first sparked by his grandfather's teaching and stories. This spark was blown into flame in the Boy Scouts and fanned to a full-on bonfire in the Marine Corps. Read more about Hutch in his instructor bio or on his website. You can also find him on Facebook and Instagram.
Refund / Cancellation Policy
Cancellations must be received by Tuesday, September 6, 2022, by 4:00 p.m. to receive a refund minus a $5.00 processing fee.
No refund will be given for cancellation requests made after 4:00 p.m. on September 6.
Should the Golden History Museum & Park cancel a club date for any reason, Tuesday, November 8 will be used as a club make-up date.