Collection
16,000-item Collection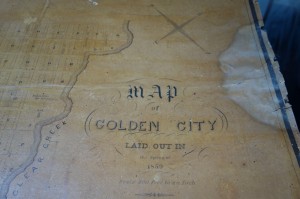 In 1938, the citizens of Golden began officially gathering, exhibiting, and preserving the town's history by establishing a permanent collection. Today, Golden History Museum & Park continues to take this responsibility very seriously, documenting the unfolding history of Golden's people, places, and things. Naturally, proper collection management is fundamental to the work we do.
Our growing assortment of 16,000 items comes in all shapes and sizes. It includes archival materials, photographs, maps, furniture, clothing, ceramics, musical instruments, tools–you name it. We even have buildings in our collection (Astor House, Guy Hill Schoolhouse, and Pearce/Helps Cabin, to name a few).
About 3,500 highlights of the collection may be viewed online, and more are being added regularly. About 2,900 of those are photographs which document a visual record of Golden. Some of our earliest photos give a glimpse of business on Washington Avenue in 1860, while more recent photos evoke the thrill of racing in the USA Pro Cycling Challenge in 2011, for example. 
These Golden-centric photographs have the power to educate, inform, record, and preserve moments in time for future generations. They are invaluable for sharing memories and self expression.
Interested in purchasing a reprint? Here's how.
Completed Conservation Projects
Philco console television
See this restored beauty in the Epic Events exhibit at Golden History Center. More details coming soon.