Volunteer
Are you already a volunteer? Log in to our volunteer database.
Interested in volunteering?
Volunteering with Golden History Museums is a great way to learn new skills, meet new people, work with the public, and make a difference in our community. Read one of our volunteer profiles. It just might inspire you!
We're recruiting
Visitor Services Volunteers
If you enjoy greeting people, learning, teaching, and selling great merchandise, we need your help. Visitor Services Volunteers are needed for Mondays or Saturdays from 10 am to 1 pm. Volunteers need to commit to at least two four-hour shifts per month.
Chicken Caretakers
Our flock of 20 hens lives in Clear Creek History Park near downtown Golden. They are looking for a volunteer to open up the coop one weekday each week before 10 am in the morning. Choose Monday, Wednesday or Thursday.
Education Assistant Volunteers
If you enjoy working with elementary school students, we need your help. Education Assistant Volunteers work with field trip groups and education outreach in schools on a pre-scheduled occasional basis. Volunteers must be available on weekdays during school hours.
All of our volunteers, with the exception of corporate group volunteers and other single-day workers, must complete a City of Golden volunteer application and consent to a background check. To get started, please complete this form.
---
---
Volunteer Profiles
Gaye Jacobs
By Shelly Bleckley, Volunteer Coordinator
At Golden History Museums, we look for friendly, enthusiastic and curious volunteers to staff our admissions desk, and Gaye Jacobs certainly fits the bill.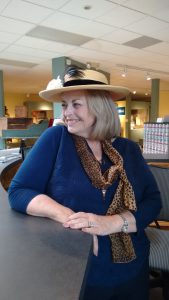 Gaye retired after a long career as an entrepreneur in the legal field. Having always been interested in tours and travel, she was certified as a Professional Tour Guide and Tour Manager and became the founder and CEO of A Guide Out West, providing both group tours via motorcoaches, and private tours of Colorado and the western states. Gaye considers this a perfect opportunity to combine her love of travel, touring and western history, and her custom tours focus on storytelling more than just a recitation of facts and figures.
Gaye's interest in Golden History Museums was born in her genes. She is descended from a pioneer family who came to Golden and Clear Creek "to get rich in the mines." Some were miners and some worked as railroaders on the Colorado & Southern Railroad. Her grandmother and her siblings were all born in Golden, and she grew up hearing about her Cornish ancestors and their arrival in Golden. Most of them now reside in the Golden Pioneer Cemetery, so she visits them from time to time and reminds them that she and her family are still here.
Being a volunteer here gives Gaye a chance to brush up on her own history as she shares Golden and western history with patrons. But she also finds it fun.  "I find the staff here to be one of the most friendly, supportive, knowledgeable and professional groups I have ever met. The work they do here every day is amazing and it's fun to be a small part of it as a volunteer". You'll find Gaye at the Golden History Center admissions desk most Monday afternoons.
---
Dennis Potter
By Shelly Bleckley, Volunteer Coordinator
Dennis has been a volunteer since 2008, first helping out in Collections and recently adding the Front Desk at the Golden History Center every Thursday. He started to volunteer because he'd had some contact with curator Mark Dodge, and when the City of Golden took over management of the museums, he felt confident in the museums' future and wanted to contribute.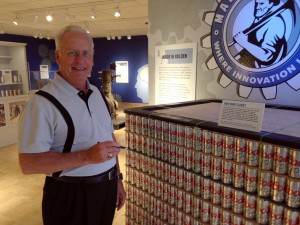 Dennis brings amazing knowledge and love of the Golden community to his job. He began working as a sheriff's deputy for Jefferson County in 1971. Soon after he joined the department, Undersheriff Chuck Morse asked Dennis to take over as the unofficial organizational archivist, and to preserve and document the history of the department. Although Dennis was the first deputy in the department with a four-year college degree, his degree was in English and didn't prepare him for suddenly becoming a historian.
On his own time, Dennis began researching objects and interviewing people. He developed a list of dates and names of past sheriffs and undersheriffs. On his last day with the department, Sheriff Harold Bray asked Dennis to interview him and preserve some of his memories. Dennis put his own money and time into collecting and preserving badges, handcuffs, body chains and photos. And when the time came to find a place for his collection to live he was courted by the University of Wyoming and the National Law Enforcement Museum in Washington, DC. But Dennis felt the collection should stay in Golden, and he has not only donated it to Golden History Museums, but is helping to record and document it.
Dennis retired from the sheriff's department in 2004 with the rank of captain and now teaches part-time at Metro State University. We are proud to have him working with us, and you can drop by the History Center and meet him on most Thursdays. As Dennis says, "My collection's in good hands and now I'm giving back."