Events
Golden History Museum events and programming explore a variety of historic subjects presented by expert instructors. Learn about your community or neighborhood. Apply historic skills in a modern way. Create something with your hands. There is sure to be a program to suit your interests!
Advance registration is required for most events. Click "read more" to get details and sign up.
Read the fine print and policies (updated 12-24-16).
Nov
30
Thu
Murder and the Shanghai Prize Fighter

@ Golden History Center
Nov 30 @ 6:00 pm – 7:30 pm
Murder and the Shanghai Prize Fighter: Robert S. "Batt" Battalino
Robert S. "Batt" Battalino was a prize fighter who was good enough to star on the TV sports show The Greatest Fights of the Century, and was evil enough to commit murder in the foothills west of Golden. You will hear the story of Batt's life, his crime, and the unusual bond he formed with the County Sheriff as he faced death in the gas chamber.
Battalino was the first person executed for committing a crime in Jefferson County, Colorado.
This multimedia program will be led by the popular Dennis Potter, retired Captain with Jefferson County Sheriff's Department. See and learn about genuine artifacts from the City of Golden collection such as the actual handcuffs used to restrain Battalino during transport.
Pricing and Location
Members always get a discount. Membership pays for itself with just a few programs for your family. Join us.
$10 for GHM members; $15 non-members.
Program will be held at Golden History Center.
Dec
1
Fri
Candlelight Walk

@ Golden History Center
Dec 1 @ 7:00 pm – 9:00 pm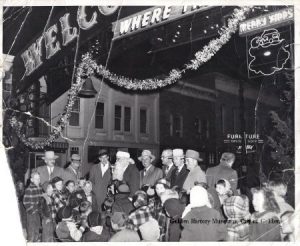 Stroll through the History Museum and take a selfie in our "Epic Events" exhibit or listen to cheery holiday music. Visit the History Park and try a roasted chestnut. Explore the inside of the Pearce/Helps Cabin, warm up at the wood stove, watch live blacksmithing, and enjoy music and singing.
These programs are free. Donations are appreciated.