Hands-on History Summer Camp
Hands-on History summer camp is a fun-filled weeklong day camp at the Clear Creek History Park. Campers use their hands as much as their brains in Dirty Jobs and they'll time-travel to the 1800s when they learn how to prepare biscuits on the wood stove in Pioneer Kids.
Read about the five different themes and see the schedule of classes below. Registration for non-members starts January 16, 2017.
Please read 2017 parent information and policies before registering. Parents do not need to send in a Parent Packet, as all the information will be collected during registration.
Location and Structure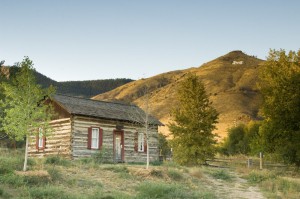 Campers participate in either full-day or half-day sessions. There are two different themes each week, one each in the morning and afternoon sessions. Age groups are divided into 6–8 and 9–11 year olds. There will be an average ratio of one teacher for every ten students or less.
HOH's "home base" will be inside the historic Reynolds Cabin in the Clear Creek History Park near the corner of 11th and Illinois Streets in downtown Golden. For activities, campers and instructors may also travel throughout downtown Golden and all three of Golden History Museums' locations.
Click the icons for descriptions.
| | | | | |
| --- | --- | --- | --- | --- |
| | | | | |
| Dirty Jobs | Pioneer Kids | Decision Makers | Art Explorers | Silent Stars |
Schedules
* During the final two weeks of camp, 12-year-olds will also be allowed to participate in the 9-11-year-old camp.
Drop-off and pick-up times
Morning drop-off: Between 8:30 and 9:00
Afternoon drop off/pick up and supervised lunch break: Between 12:00 and 1:00. Full-day campers will eat lunch while half-day campers are picked up or dropped off by parents. All campers are welcome to stay to eat lunch, brought from home.
Evening pick-up: Between 4:00 and 4:30
Rates and Discounts

To receive the member price you must have a current Household level (or higher) membership.
To sign up for the full day choose both the morning and afternoon session activity numbers.
Scholarships
Merit-based scholarships are awarded to children with a demonstrated interest in history. Scholarships can be for either full- or half-day camps. Download one application for the Gregory Family Scholarship and Friends of Golden History Museums Scholarship.