Permanent Collection
In 1938 the citizens of Golden began collecting, exhibiting, and preserving the town's history. Today, GHM continues to take this responsibility very seriously, documenting the unfolding history of Golden's people, places, and things. Naturally, it follows that collections management is fundamental to the work we do.
Our collection comes in all shapes and sizes and includes paper archives, photographs, furniture, clothing, ceramics, musical instruments, tools, you name it. We even have buildings in our collection (the Astor House, Guy Hill Schoolhouse, and the Helps/Pearce cabin, to name a few). Golden History Museums cares for a permanent collection that numbers over 15,000 items and continues to grow.
Interested in donating an item? Here's how.
Completed Conservation Projects
38-star Koenig American flag
Read the story of the flag on the GHM blog.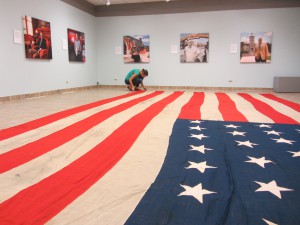 Philco console television
See this restored beauty in the Epic Events exhibit at Golden History Center. More details coming soon.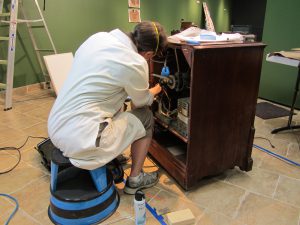 Willits Farm Map