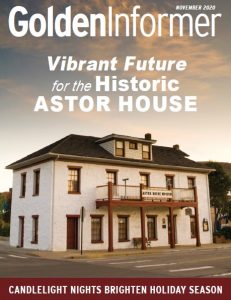 Golden History Museum & Park (GHM&P) recently acquired several rare artifacts from the Ben H. Parker Jr. estate in Golden. The Ben H. Parker Student Center at the Colorado School of Mines is named after his father. Notable finds include a signed 1896 second edition imprint of "Prospecting for Gold and Silver in North America" by onetime Colorado School of Mines professor Arthur Lakes, and this stunning "Bird's Eye View Map of Golden, County Seat of Jefferson County, Colorado, 1882."
Published by Joseph John Stoner in Madison, Wisconsin, panoramic maps like this saw their heyday in Colorado in the 1870-90s. The year 1882 saw Stoner publish maps of other contemporary Colorado cities, notably a partial series of other county seats including Buena Vista, Colorado Springs, and Trinidad. The development of lithography in the 1800s made the creation of these maps relatively easy and affordable. Map makers would sell advance copies to interested residents and local business in hopes of covering their costs. Designed to promote civic pride, these maps are works of art and not necessarily accurate. Field crews were sent out to locations around the country with engineers and surveyors, who often laid out the basic perspectives before turning them over to artists. Indexes at the bottom often list important government, educational, commercial, and transportation amenities.
Reproductions of this map are common online (GHM&P currently has two), so I took extra steps to ensure it was the real deal before committing to buy. I spoke with Denver map guru Chris Lane (you may know his name from the PBS series Antiques Roadshow), my favorite paper conservator, Karen Jones, and curatorial staff from the Amon Carter Museum of American Art in Texas, who owns one of the two documented originals known to exist (the Library of Congress owns the other original). Needless to say, our due diligence paid off. This wonderful piece will complement our other panoramic map, "Bird's-Eye view of Golden, Colorado, 1873" by O.D. Morse.
– Mark Dodge, Curator
This article appeared in the November 2020 issue of the Golden Informer.