Clear Creek History Park
Clear Creek History Park is home to many of the original buildings from the old Pearce Ranch in Golden Gate Canyon. Thomas and Henrietta Pearce, pictured below, raised eight children on their ranch. It was one of the largest in the area by 1912.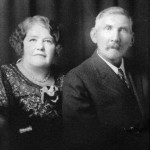 Stroll through this park and imagine yourself growing potatoes or raising chickens as part of a homesteading family. Peek through the windows of real 1800s cabins and see other buildings from the ranch like the barn, chicken coop and two-seat outhouse.
You can also have a glimpse of the 1876 Guy Hill schoolhouse which was originally located in the canyon too, but on a different property. It served the needs of canyon locals until 1951.
It's only a short walk from downtown Golden which features shopping, restaurants, and more. Admission is always free.
Read more about the park and its buildings.
Get a complete schedule of events and programs.
11th & Arapahoe, Golden, CO
Grounds open: 7 days per week, sunrise to sunset.