East Tincup: Where the Old West Lived Again, If Only Briefly
By Mark Dodge, Curator
For a few short years, Golden was home to two different theme parks. East Tincup and Magic Mountain Amusement Park each drew inspiration from stereotypical elements of the American West. Both held official grand openings in 1960 and were located a scant half mile apart on Colfax Avenue in south Golden. Sadly, both succumbed to mismanagement and financial problems soon after opening.
Magic Mountain, one of the earliest theme parks in America after Disneyland, was designed to portray Colorado history, its development, and its exciting future. The park included a real narrow-gauge train, a cavalry post and stockade, and a period town called Centennial City. Sadly, Magic Mountain closed for good before the summer was over, and components were auctioned off to pay for outstanding debt. (Much of the site sat idle until 1971, when new ownership reimagined the old park and reopened it as Heritage Square, which was open until 2015.) While the history of Magic Mountain is well documented, the story of a contemporary tourist attraction, East Tincup, just up the road at 18195 West Colfax Ave., is equally compelling.
East Tincup (1960-1962): A trip back to the year 1880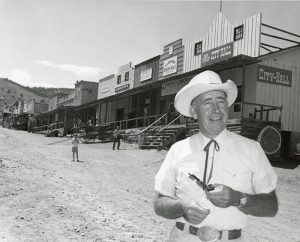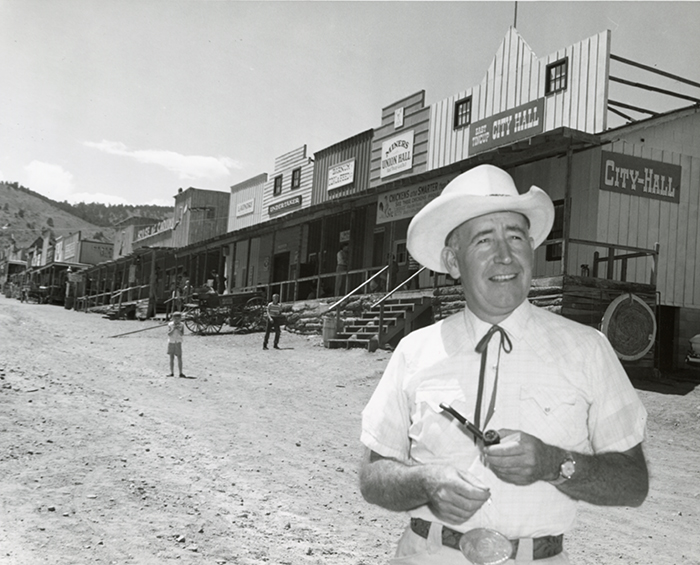 East Tincup hosted a four-day grand opening celebration over Memorial Day weekend starting Friday, May 27, 1960. Jefferson County's newest tourist attraction marketed itself as an old western town, circa 1880. Built in just 132 days during the winter of 1960 on roughly 12 acres near the intersection of Highway 6 and Highway 40 (Colfax Ave.) west of Denver, the village included 40 shops, restaurants, museums, and attractions. Fifty-sixty seasonal employees brought the town to life, many from Golden High School and the Colorado School of Mines. It was open daily from 10 a.m. – 10 p.m. during the summer months, and upwards of 125,000 guests visited during that first season.
The project was spearheaded by East Tincup Inc., a corporation formed to establish the tourist attraction and western frontier town. The town was named after the mythical East Tincup, created and made widely known by popular Denver radio entertainer Pete Smythe (pictured at right), on his daily radio and television shows. Smythe's daily broadcasts purported to originate from his general store in East Tincup, where he was mayor. The board of directors was comprised of Smythe, Dr. Nolie Mumey, and attorney Arthur Bowman.
East Tincup Inc. entered into an agreement with Business Products and Promotional Inc. led by Willis M. Webber Jr. to construct and operate the attraction. Webber constructed the replica 1880 town using many of the buildings that were once part of Pioneer Village, purchased the prior year. Originally set up in downtown Denver's Civic Center to commemorate the State of Colorado Centennial, Pioneer Village was an attraction that existed through the summer of 1959. When it closed, the buildings were auctioned. Webber moved the buildings and used them to construct East Tincup in Golden.
Virginia Weigand's "Avenue Flashes" in the Colorado Transcript called out the opening. "Colorado's Oldest Weekly Newspaper salutes Colorado's Newest Town, East Tincup, located just outside Golden's city limits to the southeast—East Tincup, a dream come true for Radio-TV Personality Pete Smythe and Willis W. Webber Jr., will hold its grand opening this weekend (Memorial Day 1960)—only a visit to the pioneer western village will prove to you the variety of interesting attractions which comprise this newest recreation center." 
A short article in a May 1960 Billboard magazine noted that the park opened its gates with a four-day celebration. Unfortunately, details of the actual opening events are mostly unknown, aside from a special appearance by Peter Breck, the frontier lawyer of TV's Black Saddle. An inaugural brochure in the GHM&P collection enthusiastically calls out a number of advertised activities and attractions including daily gun fights in the streets, opportunities to ride the East Tincup stagecoach or railroad, Happy Easter's gold mine, and authentic Indian dancers, alongside a replica town complete with a city hall, jail, school, church, and an official U.S. post office. All said, the park was home to more than 30 concessions.
East Tincup featured a variety of entertaining attractions including a live show. Called Pete Smythe General Store, it was hosted by Smythe while the attraction operated. In 1951, he elected himself mayor of the fictional town. He barely disguised his voice to create his sidekicks, Elmy Elrod and Moat Watkins, among others. Famous personalities and musicians traveling through Denver were known to make appearances in the show, including Bob Hope and Nellie Lutcher.
Another quirky attraction at East Tincup was Dr. Niblack's Animation Land, which was a woodcarver's wonderland. It was filled with the creations of retired Denver chiropractor and self-taught carver, Dr. H. D. Niblack, who created thousands of carvings and caricatures of the Old West. After East Tincup closed, a new museum was established in Golden (at Colfax Ave. and Lookout Mountain Road), and another in Tucson, Arizona. According to a 1968 brochure, "You can spend hours among these fascinating displays. They depict trading posts, barber shops, dentists' and doctors' offices, circus rings, farm scenes, jury scenes, life-size Indians, and real miniature engines that actually run." 
The demise and legacy of East Tincup
After three successful seasons the town ran into trouble when the operators had a falling out. Willis Webber Jr. lost his lease and the buildings on the land in 1963 for failing to pay back taxes. Webber regained possession of some buildings, intending to move them to Estes Park, where he started anew under the name Rimrock. He planned to provide period western movie sets to the film industry. Lacking the funds to move the structures, Webber destroyed the remaining intact portion of front porches and sidewalks.
The property owners, East Tincup Corp., vowed to rebuild but could not raise the money. What remained from the theme park was vandalized and ultimately auctioned off in 1964. Much of the old site is now home to a trailer park, and as a nod to the past there's a nearby convenience store named East Tincup Market.
Although East Tincup may have closed decades ago, recently stories and photos have emerged about its history. In 2021, Tracey Panek, historian for Levi Strauss & Co., shared a blogpost chronicling a large-scale advertisement for Levi's Jeans that was painted on the face of a massive barn at East Tincup. After the site closed, the painted metal sign ended up in private hands until the Autry Museum of the American West in Los Angeles acquired it. Read the blogpost to learn more.
In 2022, Heritage Lakewood Belmar Park transferred several dozen black-and-white press photos to Golden History Museum & Park which are already shedding new light on this forgotten gem of Golden history. We only wish more artifacts remained from this wonderland of the West. If you have a good story to share about East Tincup drop us a line.