Four views of Washington Avenue, 1890 – 1972
By Vanya Scott, Acting Curator
What a difference the decades make! Presented here are four views of Golden's Washington Avenue, all from a similar vantage point near the intersection of 13th St. and Washington Ave., looking north.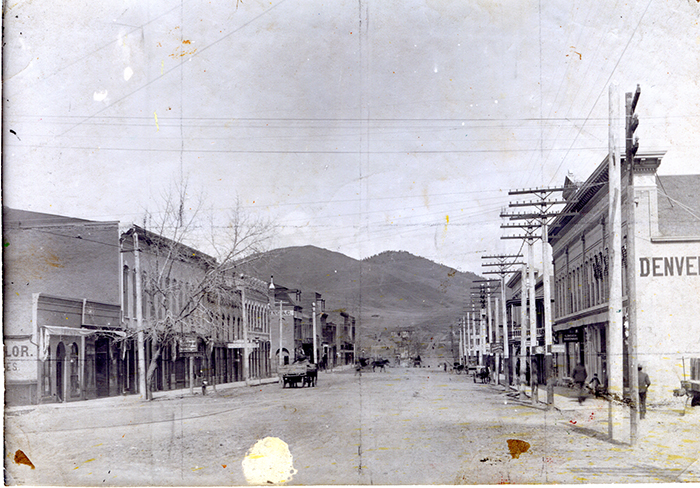 2011.020.045 – c.1890
First up, here's an unpaved Washington Avenue as seen from the corner of what is now 13th Street, featuring wagon and buggy traffic. The Linder Block, seen to right at the intersection of 13th and Washington, has a painted wall-sign reading "Denver Lakewood Golden Railroad." (Most of the sign is out of camera view.) The trolley service operated between Golden and Denver from 1890 to 1904, when it was reorganized as the Denver & Interurban Railroad. The passenger service lasted until June 1950, and freight service ended in March 1953.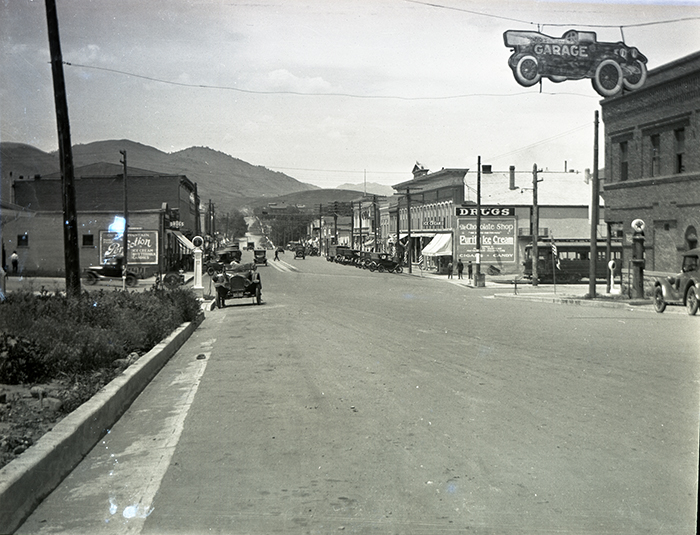 2022.067.001 – 1924
Next, we see a 1924 view of the main drag. The "Garage" sign suspended above the street in the shape of a car advertised Williams Transportation & Investment Co. It was owned and operated by "Cement" Bill Williams. The garage, which today houses Woody's Pizza, is just out of camera view. A wall of the Linder Block at the 13th Street intersection features a painted sign reading "The Chocolate Shop." They sold cigars, Puritan Ice Cream, and candy.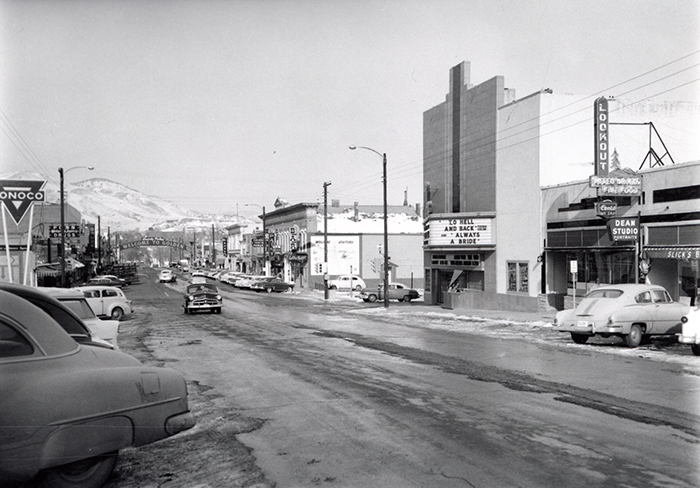 2009.005.024 – 1955
A painted mural map of Golden adorns the side of the Linder Block at center right, across 13th Street from the Golden Gem Theater. The Golden Welcome Arch, seen in the far background, was installed in 1949.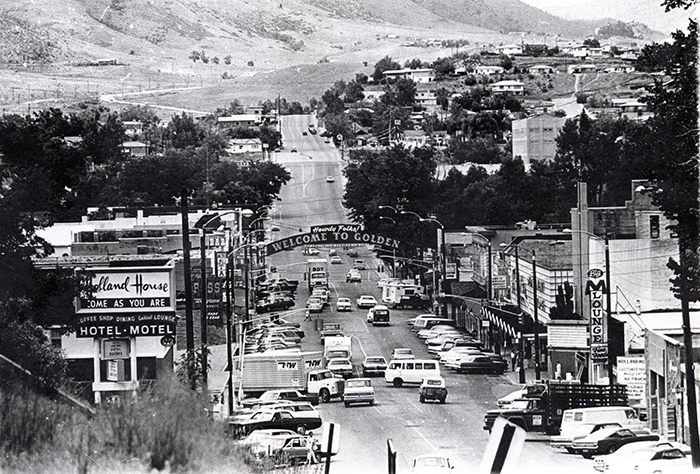 2019.045.001 – 1972
Finally, our last view prominently features The Golden Gem Theatre. It closed in 1975, three years after this photo was taken. Until September 23, 2022, Starbucks occupied that corner of 13th St. and Washington Ave. Next to that, where the Big M Lounge sign was, is now Woody's Pizza.
All images are copyright protected and belong to Golden History Museum & Park, City of Golden. We welcome inquiries regarding the purchase of historic photos. Browse the GHM&P collection here.