Grandson of Jolly Rancher founders donates trove of company artifacts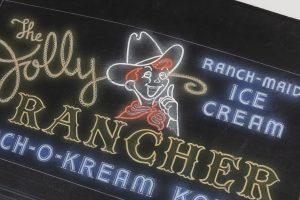 Aside from cold cans of Coors and scores of brainy School of Mines grads, there is perhaps no Golden export more famous — or beloved — than the Jolly Rancher.
Local couple Dorothy and Bill Harmsen opened their first Jolly Rancher Ice Cream store on Washington Avenue in 1949 and began selling early versions of their now-iconic confection out of it soon after.
The store closed in 1951, but the brand's local ties continued as production of the candies was moved to a factory in Wheat Ridge where it continued until new owner The Hershey Company moved production to Mexico in 2002.
But even as Jolly Rancher is regarded as a sweet piece of Golden's past, the company's history has been neither widely known nor easy to learn much about. Until now.
Last month, Golden History Museum & Park curator Mark Dodge announced that John Harmsen, Dorothy and Bill's grandson, has decided to donate a collection of artifacts from his family's business to the museum. Dodge has written that the collection "will represent the finest collection of Jolly Rancher history anywhere."
The donation, which will be known as the Harmsen Family Collection, includes everything from early product packaging to signs to molds that were used to create the company's lesser-known chocolates, which were sold only in Colorado and neighboring states.
Dodge said the acquisition marks something of a change in philosophy for the museum, which had long eschewed dealing with anything Jolly Rancher other than a small display about the company's early history in Golden.
But while the museum had never shown much interest in expanding the knowledge of Jolly Rancher, its visitors had. The museum would routinely get inquiries from the public relating to Jolly Rancher and old museum blog posts touching on the company's Golden roots continue to be among its most most well-read.
"There appears to be nobody else in the country that appears to have much information about the Jolly Rancher company," said Dodge. "So, when I knew we had the opportunity to get a lot of this I just thought the time was right."
For Dodge and other historians, one of the most exciting aspects of the deal with John Harmsen is the ability for museum staff to create digital facsimiles of the company's Sugar and Spice newsletters (Harmsen wanted to keep the originals), which were edited by Dorothy.