A New Outreach Program Helps Connect Students to Ute Traditional Knowledge
Golden History Museum & Park is pleased to announce that we have been chosen as a partner organization to help History Colorado facilitate their new educational outreach program, Ute Knowledge History Take-Out Kit, in our local area. This kit helps students explore the integration of Western science, technology, engineering and math (STEM) and Ute traditional ecological knowledge. This educational program encourages students to understand the history of the Ute people and their struggles while also demonstrating how the Ute people have survived and continue to thrive as important members of our community.
Who are the Ute People?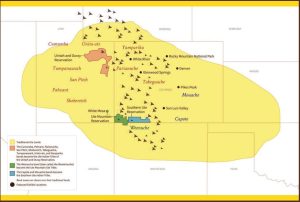 The Ute people are one people, many bands, and today, three tribes. Their long history goes back generations and was shaped by interaction with their environment and their neighbors. Historic changes since 1849 have dramatically impacted the Ute people's way of life. Their relationship with the land shapes their language, dances, and ceremonies. The Ute people's place in their tribes, their bands, and their families form their identities as Ute. They are Colorado's oldest continuous residents and are still here today. The Ute people live in the modern world and carry on their traditions.
What is Traditional Ecological Knowledge?
Traditional Ecological Knowledge, also called by other names including Indigenous Knowledge or Native Science, (often abbreviated as TEK) refers to the evolving knowledge acquired by indigenous and local peoples over hundreds or thousands of years through direct contact with the environment. This knowledge is specific to a location and includes the relationships between plants, animals, natural phenomena, landscapes, and timing of events that are used for lifeways, including but not limited to hunting, fishing, trapping, agriculture, and forestry.
Kit Highlights
Giant Map of Colorado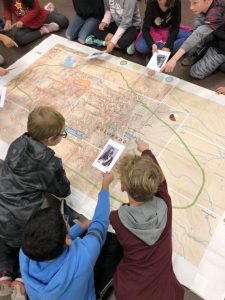 A large cloth map of Colorado allows students to identify modern map features such as state lines and towns, directional resources such as the compass rose, and natural features important to the state such as mountains, plains, foothills, valleys, and water. Once students have been introduced to the map, a museum educator can transition to a discussion of the Ute people, including their traditional territory and their modern communities and reservations.
Activity Boxes
This kit includes activity boxes that allow students to explore how the Ute people solved problems to survive and thrive within their environment, using what we would consider science, technology, engineering and mathematics (STEM). Potential themes to explore include Engineering a House and Science for Food. Each activity box allows 2-3 students to work together to investigate their individual topic. Students first complete a matching activity, then move on to a series of challenges where they will test their knowledge to solve a new problem.
To learn more about GHM&P's different traveling outreach programs visit GoldenHistory.org.
Thank you to History Colorado for granting the Golden History Museum & Park a Ute Knowledge History Take-Out Kit. Information for this article came from the program's educator manual created by History Colorado. The Ute Knowledge History Take Out Kit is part of the Ute STEM Project, supported by the National Science Foundation. This program is possible through the expert knowledge and generous efforts of the representatives of Southern Ute Indian Tribe, The Ute Indian Tribe of the Uintah and Ouray Reservation, and the Ute Mountain Ute Tribe ("The three Ute Tribes.") and was developed by History Colorado.
A version of this article originally appeared in The Golden Informer.