Newly Displayed Artifacts at Museum
Popcorn. Soda pop. Hushed voices. Previews….
There's something so special about experiencing a blockbuster film on the big screen. Thanks to Covid it has probably been a while since you've enjoyed watching a movie in the theater.  But we all have memories of going to the movies.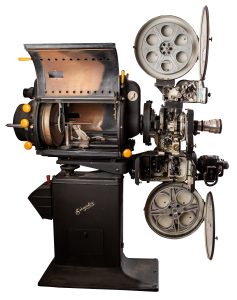 At Golden History Museum & Park, we are showcasing a piece of movie history from back in the good old days with our 1949 Simplex film projector. This impressive machine lived in Golden's Gem Theatre for nearly 30 years. One can only imagine the hundreds of pictures that passed through its reels, and the many Hollywood legends it displayed on screen. The projector, along with the story of Richard Preuss who ran the Gem for about 10 years, is now on display in our Legendary People gallery.
We have several other changes coming to our galleries soon. Legendary People will feature folks like Carrie Critchfield, the first woman elected to Golden City Council, Carl Eiberger, a lawyer who saved South Table Mountain from being quarried, Jonas Wannemaker, an early Golden pioneer, and many more. New highlights in Epic Events will include a famous story of vigilante justice and a beautiful wedding dress from a prominent Golden family. Stay tuned for these exciting exhibits!
Golden History Museum, located at 923 10th St., is open Tuesday through Saturday, 10 a.m. to 4:30 p.m.
A version of this article originally appeared in The Golden Informer.
Photo by Justin LeVett Photography.