The current issue of Discover magazine features articles on an extinct ski area near Golden, the celebrated Gem Theatre once located on Washington Ave., and the story behind the early agricultural uses in the area. We trust you'll enjoy this one.
Top stories in spring 2022 Discover magazine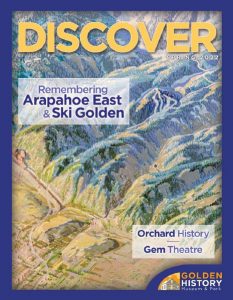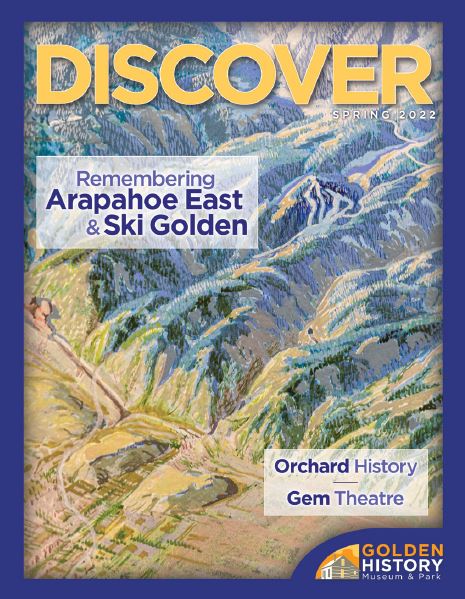 Colorado's high, arid climate is not often associated with lush agricultural production. When Edwin James, member of the Stephen Long Expedition of 1820, passed through the region he wrote that the Great Plains were "uninhabitable by a people depending upon agriculture for their subsistence." Learn how creative irrigation changed all that starting in 1859.
Did you ever catch a film in the Golden Gem before it closed in 1975? Even if you didn't, you can enjoy some first-person accounts in this issue from a few who did.
Finally, if you miss Meyer Hardware like we do, this issue's reminiscence from Steve Schaefer and some bonus photographs featured in the online collection are sure to bring back some great memories.
Download the spring issue here.
Feedback
Please let us know what you think of this issue of Discover. We want your feedback!
Please fill out this simple form or give us a call at 303-278-3557 if you'd like a free subscription to the paper version of this magazine.
Support our Work
Do you value the work we do at Golden History Museum & Park? Consider supporting the museum with a membership. It pays for itself with attendance at just a few programs. Memberships start at $40 and all levels include a 10% discount at our gift shop, which features books about Golden as well as crafts from local artisans.
The best value starts at the Patron level ($125) and includes reciprocal admission and benefits at hundreds of North American museums from both of these networks: North American Reciprocal Museums (1,170 participating museums) and Reciprocal Organization of Associated Museums (more than 410). Join us today.