Calendar
May
6
Sat
Fire Master Class with Aaron "Hutch" Hutchings – Flint & Steel

@ Golden History Park
May 6 @ 9:00 am – 12:00 pm
Fire Master Class with Aaron "Hutch" Hutchings 
In Hutch's Own Words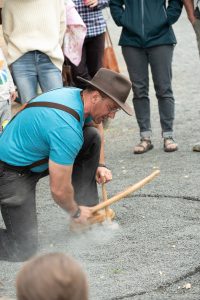 "Whether adventuring in the outdoors or enjoying a book about adventuring in the outdoors, fire always comes up. In fact, it has been said that fire is directly related to every other survival priority. Not just survival but most outdoor adventures are enhanced with safe, effective fires. It helps regulate core body temperature, boils water for purifying, cooks food, signals for rescue, makes tools, scares away the bumps in the night, and so much more. This is also one of the areas that I see most people struggle with, especially if they do not have the perfect situations and resources. There is a great deal to learn and master with fire, including basic principles about tinder, ignition tools, strategies, and techniques. 
Teaching different methods of fire is without a question one of my favorite subjects. This four-part series will be a culmination of over 30 years of professionally teaching pioneer, survival, primitive, boy scout, military, and every other type of fire hack. We will explore both modern and historical ways of making fire as well as looking at safety and dealing with poor fire situations. At the end of this series you will look at fire in a totally different way and will be able to achieve it with a tiny spark, sticks only, modern tools, pioneer tools, wet wood, windy weather, no wood, and more." 
Photo: Povy Kendal Atchison
Class Details
This will be a true adventure in mastering the art of fire. Anyone under the age of 16 must be accompanied by an adult. You do not need to attend the whole series, but the classes will build upon one another. There is a discounted price for attending all four classes and supplies are included in class price.
Four-class package deal
Promo Video
About Hutch
Aaron "Hutch" Hutchings is a Colorado native, veteran, and father of four. He was raised in the Rocky Mountains by a real mountain man and hunting guide he called Grandpa. His love for adventure was first sparked by his grandfather's teaching and stories. This spark was blown into flame in the Boy Scouts and fanned to a full-on bonfire in the Marine Corps. Read more about Hutch in his instructor bio or on his website. You can also find him on Facebook and Instagram.    
Time and Location
Golden History Park
9 a.m. to noon
Pricing
Single class: $35 for museum members, $50 non-members
Series of all four classes: $115 for museum members, $175 non-members
Membership
Membership pays for itself with just a few programs for your family. Join us.
More Golden History
Check out the Golden History Museum & Park blog for the latest behind the scenes videos and stories, personal memoirs, and history tidbits about Golden.
May
27
Sat
Homestead Open House 2023-1

@ Golden History Park
May 27 @ 10:00 am – 2:00 pm
Homestead Open House
Come to our next Open House! Interested in seeing sparks fly at the blacksmith shop, taking a lesson at schoolhouse, or watching the Pearce/Helps Cabin woodstove in action? Visit the Golden History Park, adjacent to downtown Golden, on select Saturdays from 10 a.m. to 2 p.m., May through September.
Family Friendly Event
During these family-friendly open house events, you will be able to participate in hands-on activities, learn about pioneer history from our interpreters, and see special demonstrations. Homestead Open House is free and drop-in style; there is no registration. Experience history in action!

---
What's in Golden History Park?
The History Park is home to many of the original buildings from the old Pearce Ranch in Golden Gate Canyon. Stroll through the park and imagine yourself growing potatoes or raising chickens as part of a homesteading family. Peek through the windows of real 1800s cabins and see other buildings from the ranch like the barn, chicken coop and two-seat outhouse. You'll also see the 1876 Guy Hill schoolhouse at the park. It was moved to Golden in 1976. Read more here.
Location and Pricing for Open House
Golden History Park
10 a.m. – 2 p.m.; drop-in anytime
Free for all
Membership
GHM&P membership pays for itself with attendance at just a few programs. Memberships start at $40 and all levels include a 10% discount at our gift shop. It features books about Golden as well as crafts from local artisans. The best value starts at the Patron level ($125) and includes admission and benefits at hundreds of North American museums from both of these networks: North American Reciprocal Museums (more than 1,250 participating museums) and Reciprocal Organization of Associated Museums (more than 440 participating museums). Join us today.  
More Golden History
Check out the Golden History Museum & Park blog for the latest behind the scenes videos and stories, personal memoirs, and history tidbits about Golden.