The current issue of Discover magazine features articles on an extinct amusement park in Golden, the celebrated East Tincup, as well as our Indigenous Connections Project. We've published a short excerpt in the magazine, but you can get the entire report at no cost.
Top stories in fall 2022 Discover magazine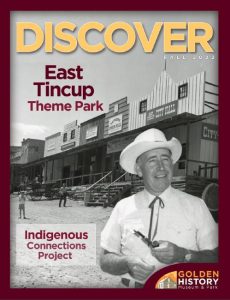 For a few short years, Golden was home to two different theme parks. East Tincup and Magic Mountain Amusement Park each drew inspiration from stereotypical elements of the American West. Both held official grand openings in 1960 and were located a scant half mile apart on Colfax Avenue in south Golden. Sadly, both succumbed to  mismanagement and financial problems soon after opening. Read the whole story in Discover.
Native American history and connections to the Clear Creek Valley and table lands of the central Colorado Front Range extend back for more than 12,000 years. Contemporary Native American communities continue to view this place as an aboriginal homeland and a living landscape. However, today's historical narrative of the region largely excludes Indigenous people and their values. Want to learn more? Check out the magazine.
Finally, do you know what Golden's most famous landmark is? Get the magazine to see if you're right and then learn the details about how and why it was built.
Feedback
Please let us know what you think of this issue of Discover. We want your feedback!
Please fill out this simple form or give us a call at 303-278-3557 if you'd like a free subscription to the paper version of this magazine.
Support our Work
Do you value the work we do at Golden History Museum & Park? Consider supporting the museum with a membership. It pays for itself with attendance at just a few programs. Memberships start at $40 and all levels include a 10% discount at our gift shop, which features books about Golden as well as crafts from local artisans.
The best value starts at the Patron level ($125) and includes reciprocal admission and benefits at hundreds of North American museums from both of these networks: North American Reciprocal Museums (1,170 participating museums) and Reciprocal Organization of Associated Museums (more than 410). Join us today.