Get a Whiff of Jolly Rancher History
By Stephanie Gilmore, Curator
Jolly Rancher Ice Cream and Hard Candy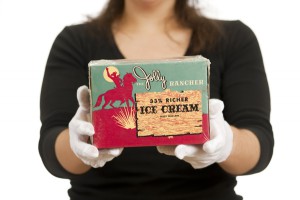 Green apple, hot cinnamon, cherry; these are just some of the flavors that Dorothy and Bill Harmsen lovingly added to their famous Jolly Rancher candies. Before the bright, flavorful, hard candies came to be, though, the Jolly Rancher company started as an ice cream shop in downtown Golden in 1949. After its first summer season was not very successful, due to chilly weather and supply chain issues, the Harmsens decided to try their hand at selling candies instead of ice cream. One of their first candies to explode in popularity was Fire Stix, a hot-cinnamon-flavored taffy stick that they initially sold for five cents apiece. Figuring they had a profitable opportunity to sell candies on a bigger scale, they converted several horse stalls in their barn, located 6 miles east of Golden, into a candy manufacturing operation. This would ultimately expand into several franchises, as well as a large plant located on Ward Road in Wheat Ridge.
Change in Production
Jolly Rancher was purchased by the Hershey Company in 1997. Although the Ward Road plant remained in operation until 2002, candy production would, in the end, move to Canada where it remains today. Prior to 2002, residents of the Golden/Wheat Ridge area fondly remember the scent of candy being made whenever they were nearby.
Smell the Flavors in the Museum
To help bring these memories to life, the Golden History Museum & Park is adding a fun element to our Jolly Rancher display. Starting this fall, museum visitors will be able to smell a simulation of candies in production through a special interactive exhibit. We hope you come visit to enjoy this new feature, as well as all the other exhibits Golden History Museum & Park has to offer.
Photo: Scott Dressel-Martin